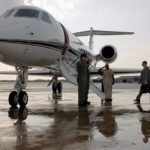 Zacheis, for lack of a better term, has a wealth of knowledge in the wealth management sector, especially in Dallas - where he has been in his role with the bank for almost six years. He also has experience in a very specialized type of banking, one that covers specific aspects of wealth management. This includes the very enticing, and often dreamed about, prospect of owning a private plane.
The veteran banker recently sat down with BBVA to discuss private plane financing, and the topics that come with it.
What's the benefit of a global wealth client buying their own plane as opposed to commercial? Convenience? Cost benefit? Anything unique? 
Private aircraft ownership provides an unparalleled level of convenience, comfort, and time-efficiency.
For a client who needs to travel frequently - and to many places, big and small cities - for business, it can be almost impossible to make commercial work. For example, for a hypothetical executive who needs to visit four store locations on the West Coast efficiently, this is possible to do in one day with private aviation, and be home for dinner.
If this client were flying commercial, they may only be able to visit one with all the time spent in the airport, waiting on the tarmac, driving to and from the airport, waiting for delayed flights, and flying on slow commercial airplanes.
Commercial aviation can also be cramped, uncomfortable, and only provide limited space for luggage, pets, and sports equipment like skis. This can be a major limiting factor for HNWIs who travel frequently for leisure. Commercial flight is usually not a very relaxing experience.
To get more granular: the most significant time savings come from hugely reduced wait times on the ground.
Private jets can fly into smaller, more convenient, less crowded airports that commercial carriers don't service (meaning you can get closer to your actual destination, as the US has over 5,170 airports open to the public, but only 503 serving commercial flights).
The flight schedule is built around your personal needs, rather than around maximizing profitability and occupancy for the airline, so the airplane can take off within minutes of your arrival rather than hours.
You don't have to go through TSA/check baggage.
Assuming that the jet has an appropriate range to reach the destination, you always fly direct, rather than through hubs/large airports.
You avoid the hassle of commercial hubs and transferring airplanes, which can sometimes take many hours.
Private jets fly higher and faster than commercial airliners, which means that they can fly more direct routes above commercial traffic.
You can get work done during the flight, which may not be possible on a crowded airliner. It is also possible to have sensitive/confidential conversations on a private aircraft, whereas this may be ill-advised on a commercial flight.
Finally, you can't ignore the comfort factor of being able to show up to the airport at any time with your own aircraft waiting for you.
Why not fly commercial anymore? Does paying for a private pilot and fuel supply worth the hassle? 
Commercial aviation is expected to continue to become less comfortable and more profit-maximizing, which will continue to make it less appealing to high net-worth clients. While private aircraft are unimaginably expensive and opulent, they do provide the practical benefits listed above. The client will have to do the math themselves about what their priorities and needs are.
Additionally, most of these clients do not move from commercial to owning a jet - they move from chartering jets, fractional ownership, or Flexjet type arrangements. The transition, therefore, is a lot more of a gradient rather than black and white.
The general consensus about when jet ownership makes sense is when you fly more than 200-250 hours a year, and the conservative cost of operating a jet is about 10% of the cost of the jet. Some of the costs of flying in this category include: crew salaries, chart and weather services, catering, satellite phone/WIFI services, hangaring, and insurance.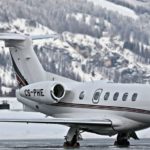 What about costs of repair and maintenance - how does a client factor that in when making that investment? 
When you include all costs averaged over the life of the airplane, it comes out to about $2000-$6000 per flight hour for the average private jet, depending on the type of aircraft.
When does a client know if they have enough money to buy their own airplane? 
When the individual identifies that they regularly fly over 200 hours per year, and are able to afford the costs associated with the aircraft, which come out to about 10% of the cost of the aircraft. Usually you don't go straight from commercial to buying your own plane. You usually go from fractional ownership or Flexjet, some sort of charter service. It's not an immediate transition. So the cost of your flying is likely already being factored into your financials.
What kinds of services and/or products does the bank offer in order for a Global Wealth client to achieve their goals of buying their own plane? 
BBVA offers traditional bank lending to help with such a capital intensive purchase. We will also work with the aircraft attorney and title service to create the single purpose entity and facilitate the transfer of title for the airplane. We also offer construction lending for custom built aircraft, which can actually lower the cost of the aircraft by moving the financial burden off of the manufacturer. Fixed rate swaps can be added to the loan to protect against interest rate changes, making the interest payments more predictable. Consulting with the client to match an aircraft with their financial plans and abilities is also one of our priorities. The wealth unit of BBVA specializes in providing newer, larger jets, and does not work with smaller aircraft or turboprops.
Can you describe to me the process of a "construction loan" and how this can help clients in this area? 
Construction loans typically involve three draws at different phases of the construction. The sizes and distribution of the draws can vary based on builder and their requirements. BBVA Wealth will work with the builder and an aircraft consultant to make sure that we're meeting the timelines and draw requests for the aircraft. There's no tail number during the build process but we secure it with an invoice number. We will only do construction lending for the strongest borrowers and most significant projects. The point of a construction loan is to create a highly customized and purpose-built aircraft.
There is also the potential advantage of lowering the cost of the aircraft if you use construction loans, as you're taking much of the financial burden of building the aircraft off of the manufacturer. They reward you for this by offering you discounts.
Is there anything you'd like to add?  
The market conditions are currently favorable for buyers, with large amounts of aircraft for sale, and little to no backlog for new aircraft (except for the highest demand craft). Additionally, we are in a low rate environment, which makes purchases relatively less expensive.