The Roca brothers will support the career of 21 young chefs in their new tour around Spain
The Roca brothers continue demonstrating their enthusiasm for exploring new territories and supporting young talent. After three international tours, their new challenge focuses on Spain. La Coruña, Bilbao, Seville, Valencia, Madrid, Barcelona and the Canary Islands are their upcoming destinations.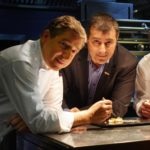 The time has come to embark on a new adventure: "The Cooking Revolution by BBVA", a tour in which Joan, Josep and Jordi Roca will travel around seven autonomous regions until the end of 2018, as Joan explains, to "learn about and highlight the different gastronomic traditions to be found all over Spain". The brothers will design a menu in homage to the local gastronomy in each of the regions they visit.
Gastronomic training and more
This new journey has a very distinctive social aspect, in line with the Roca brothers' desire to share what they have learnt, and to use their internship program to support young people who aspire to be part of the future of Spanish gastronomy. "This is a way of giving young people an opportunity to come and learn about what we do, making them part of our home and family, but it's also obviously a way of discovering talent", explains Joan Roca.
So far 2,000 interns have worked in the kitchens of El Celler de Can Roca, an enriching experience for these young people, who all testify to the Roca brothers' generosity and their willingness to share their knowledge. During this tour the three chefs will choose two students from each autonomous region specializing in cooking and one specializing in front-of-house restaurant service. A total of 21 young people, all students from state schools or schools with direct links to the Education Departments, will benefit from the BBVA Gastronomy Grants. The participating centers are: Centro Integrado de Formación Profesional Paseo das Pontes (A Coruña), Centro de Turismo de Valencia, IES Heliópolis (Seville), Escuela Superior de Hostelería de Bilbao, Escuela Superior de Hostelería de Madrid, Escuela Universitaria de Hostelería y Turismo CETT (Barcelona) and Hoteles Escuelas de Canarias (Las Palmas).
The selected students will spend four months undergoing practical experience at El Celler de Can Roca, where they will learn something that goes far beyond the world of gastronomy. "This is a family-run restaurant", says Nacho Baucells, head chef at El Celler de Can Roca. "The friendly way everyone's treated here is not what you'd expect to find in a three-star restaurant".
However, these students are not the only ones who will have the opportunity to learn at first hand from three great teachers. In each city the Roca brothers will give conferences and master classes in collaboration with the universities and catering schools in the region, and will hold meetings with local companies with whom they will share the story of their success.