Alternative finance keeps gaining traction in Europe and Spain is no exception. By volume of activity —and excluding the UK— Spain ranks fifth in the European Union for the fourth consecutive year in this segment, behind France, Germany, the Netherlands and Finland. In 2016, Spain's alternative finance sector grew by 162%, to €131 million.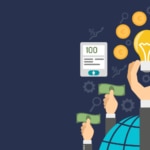 Specifically, Spain ranks third in Europe in terms of alternative finance for companies. According to the Alternative Finance Industry Benchmarking Report published by the Cambridge Centre for Alternative Finance (CCAF) and supported by BBVA Research, each year 100 million euros in non-conventional funding goes to startups, entrepreneurs and medium-sized enterprises, The study was presented during an event at BBVA's Innovation Center, co-hosted by María Abascal, BBVA Global Head of Institutional Relations.
In Spain, due to the level of interest in alternative sources for financing companies, it´s not surprising that P2P (or peer-to-peer) business lending is the largest segment of the alternative finance sector, with a 104% annual increase in 2016 to  €44.5 million.
"This is an example of the far-reaching transformation process that the financial services industry is undergoing, which will entirely redesign the banking sector," says José Manuel González-Páramo, Executive Director and Global Head of Economics, Regulation, and Institutional Relations at BBVA. "We're sure that this report will contribute to the ongoing debate regarding the evolution of alternative finance in Europe."
The CCAF report is based on surveys conducted in 45 countries among 344 companies dedicated to crowdfunding, peer-to-peer lending and other segments of alternative finance. The study found that "the alternative financing ecosystem in Spain is focused on innovation," with platforms that develop new products, invest in research and development, and deploy internationally-oriented strategies.
Europe, still below its potential
The report found that the European alternative finance market grew 41 per cent in 2016, to 7.7 billion euros. Excluding the United Kingdom, which remained by far the largest market in Europe (with 73% of the total), alternative finance grew 101% to 2.06 billion euros, from 1.02 billion euros a year earlier.
Peer-to-peer consumer lending is the largest alternative finance segment in Europe for the third year in a row, with 34% of the total, followed by peer-to-peer business lending (17%)
These are the two segments with the largest market share, followed by peer-to-peer business lending, invoice trading, equity-based crowdfunding and reward-based crowdfunding.
The report also concludes that regulation is one of the biggest challenges facing the alternative financing industry in the EU. However, it is worth noting that, most European countries, including Spain, have implemented national regulations with a special focus on the crowdfunding segment.
What is alternative finance?
More and more businesses and individuals are turning to non-traditional sources of funding. Harnessing the power of new technologies, these platforms allow individuals and businesses to lend money to other individuals and businesses in need of funds. In return, the lenders receive an economic compensation, while the intermediating platforms charge fees.
The most important alternative financing models are 'crowdlending' —where the funding required by a project or business is provided by different small private lenders— and P2P lending, where individual lenders provide money directly to individual borrowers.
BBVA is exploring new financing models through Trust-u, an initiative of the New Digital Business unit, which provides funding to SMEs. What makes Trust-u's value proposal unique is that the eligibility of prospective borrowers and the volume of funding they can apply for depends among other things, on their ability to secure backing from relatives and friends. Trust-u makes up the remaining amount of the loan the small business requires. The target market consists of companies that have already been in business for a few time, but find it difficult to obtain bank loans because they lack a credit history.
Trust·u is one of the intra-entrepreneurship projects by which BBVA approaches the new, disruptive business models, so it can compete with the startups that are trying to enter different areas of the banking business' value chain.