12 percent of the BBVA Group's new financing is sustainable
As of January 2021, 12 percent¹  of BBVA's new financing is connected to sustainability, according to the figures released on Investor Day, which was held last week. At this event, BBVA's Global Head of Sustainability, Javier Rodríguez Soler, also announced that BBVA expects to channel over €35 billion in sustainable financing in 2021. This represents more than 70 percent growth from 2020. "Decarbonization, in particular, and sustainability, in general, represent the greatest transformation in the history of humankind," Rodríguez Soler stressed. This phenomenon represents an "huge business opportunity" for BBVA and its shareholders.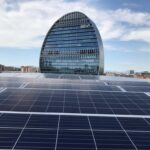 During his presentation at Investor Day, Rodríguez Soler presented to investors BBVA's plans and strategy for sustainability for the coming years. A strategy marked by the context of profound change currently underway in society as a whole and where "public and private investment will lead the change."
From 2018 to September 2021, BBVA has channeled €75 billion in sustainable finance. "BBVA is one of the most committed banks to sustainability in the world," explained Rodríguez Soler. He recalled that the bank doubled its sustainable finance goal from €100 billion to €200 billion (for the 2018 - 2025 period). Figures that position BBVA as one of the leaders in this commitment to sustainable finance in relation to its size (four percent of the total of its assets compared to an average of 2.4 percent in the sector).
Javier Rodríguez Soler offered some figures regarding the growth of sustainable products. Specifically, green mortgages (those granted to improve energy efficiency in homes) increased 270 percent in the first nine months of the year compared to the same period from the previous year. Meanwhile, loans for hybrid and electric vehicles rose 232 percent. BBVA's Global Head of Sustainability recalled that BBVA is the first bank in the world to use data analytics to calculate SME's carbon footprint. In this regard, he announced that this calculator (available for all types of clients as of July) had already accumulated 470,000 visits between January and October 2021.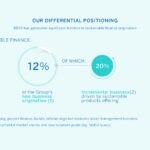 Business opportunity
In the coming years —through 2025— a significant portion of BBVA's incremental sustainable business will come from innovation in certain sectors. Specifically, he estimates that 20 percent (€40 billion of the €200 billion from the foreseen sustainable finance objective) will mainly come from green and social loans for new lines of growth (hydrogen projects, energy efficiency initiatives, electrification of transportation, etc.)².
¹ Includes loans, project finance, bonds, refinancing. Excludes Asset Management
² Based on incrementals market share and new businesses (NGEU Funds)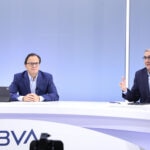 From left to right: Javier Rodríguez Soler, Global Head of Sustainability at BBVA; and David Puente, Global Head of Client Solutions at BBVA, during the Investor Day.
In this sense, Rodríguez Soler announced seven decarbonization topics that present relevant business opportunities and which BBVA will prioritize in the execution of its sustainability plan: electricity generation; transportation; industry and innovation in terms of oil and gas; buildings; agriculture; circular economy; and carbon markets.
In addition, he emphasized BBVA's leading position in emerging markets, which represents an opportunity, because they will have to invest more in relation to their GDP: "Specifically, in Latin America, seven percent of its GDP will be allocated to low emission technologies compared to five percent in Europe," he indicated.
Rodríguez Soler reaffirmed BBVA's commitment to helping its clients in the transition to a more sustainable and inclusive world. The bank will focus its efforts on accompanying its clients with financing, advice and innovative solutions in the joint efforts toward decarbonization. In this process, he feels that specialized sectoral knowledge and the development of transition tools will be key.
With the goal of becoming a carbon neutral bank by 2050, BBVA also intends to accompany its clients in this journey. For this, it set a portfolio alignment strategy with the emission reduction scenario and announced intermediate objectives for 2030 at the Glasgow Climate Summit: a 52 percent decrease in carbon intensity of electricity generation; a 46 percent decrease in the automotive sector; 23 percent decrease in steel; and a 17 percent decrease in cement. In the case of coal, BBVA will no longer finance it in 2030 in developed countries, and 2040 in all other countries. BBVA is one of the few banks that has published decarbonization objectives in its portfolio for these sectors.
Finally, Rodríguez Soler recalled that the bank was recently recognized by the Dow Jones Sustainability Index. BBVA received the highest score among European banks in sustainability, and second in the world, according to the latest analysis of this index, released in November 2021.