BBVA announces decarbonization targets for new economic sectors by 2030
BBVA has set intermediate targets to decarbonize its portfolio in four CO2-intensive industries. Following its commitment in March to stop financing coal-related companies by 2030 in developed countries and by 2040 for the rest, the bank now announces that between 2020 and 2030 it will reduce the carbon intensity in its loan portfolio by 52 percent in power generation; 46% in automobile manufacturing; 23% in steel production; and 17% in cement production. These sectors, together with coal, account for 60 percent of global CO2 emissions¹. BBVA will focus on accompanying its clients with financing, advice and innovation solutions as part of a global decarbonization effort.
- BBVA's decarbonization targets: What do they mean and what is their scope?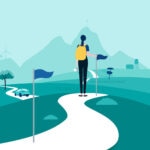 "In setting these targets, we are taking a further step in our commitment to be carbon neutral by 2050. It is also an opportunity to continue supporting our clients in their sustainable transition," said BBVA Chairman Carlos Torres Vila.
BBVA has made this announcement within the framework of the COP26, which is being held over the next few days in Glasgow and which, according to the main world leaders in attendance, is the "last chance" to limit the increase in the planet's temperature to 1.5ºC, with respect to the pre-industrial era.
BBVA has chosen to follow emission intensity metrics per production unit, with a starting point in 2020 and a target for 2030 for the four new sectors. These intensity metrics follow the SDA (Sectoral Decarbonization Approach) methodology and are aligned with PACTA (Paris Agreement Capital Transition Assessment).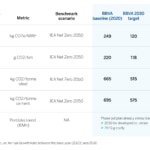 Going forward, BBVA will set targets and commitments for the rest of the sectors it finances, such as oil & gas; aluminum; real estate; transportation and agriculture.
Road to an emission-free portfolio by 2050
The role of banking is fundamental as a financier of all productive sectors. The influence that financing can have on a client's behavior and environmental performance has been highlighted by the market and regulators. Companies will play a leading role in this decarbonization by transforming their production models and making them more energy efficient.
As stated in the Paris Agreement, financial flows must be consistent with a pathway towards low greenhouse gas emissions and climate-resilient development to keep the increase in the global average temperature to below 2°C with regards pre-industrial levels and, if possible, to below 1.5°C.
In line with its commitments, BBVA has decided to take the 1.5ºC scenarios as a reference, specifically the net zero emissions scenarios of the IEA. The IEA's new net zero emissions scenario advances emissions neutrality to 2040 for the electricity sector and foresees an automobile market with 86% of electric cars by 2050.
¹Source: International Energy Agency and UNEP