Investor Day: BBVA increases shareholders distributions and sets ambitious goals through 2024
BBVA is holding its Investor Day this Thursday, when it will present its plan for the 2021-2024 period. It will focus on turning significant social and environmental challenges - like the technological disruption or decarbonization of the economy - into opportunities for profitable growth while having a positive impact on society. BBVA has released an ambitious set of objectives in terms of efficiency, profitability and tangible book value plus dividends, which it aims to reach in 2024. It also set a customer acquisition objective and reaffirmed its commitment to channel €200 billion of sustainable finance through 2025. Additionally, BBVA has increased its payout to 40-50 percent of its annual consolidated ordinary profit.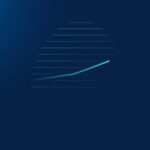 "BBVA is in a unique position to seize the growth opportunities brought about by this era of unprecedented change. Our leadership and anticipation in digitization, in the development of solutions to improve the financial health of our clients and in sustainability, are clear strengths to create value for our shareholders, clients, employees and for the overall society," said BBVA Chair Carlos Torres Vila.
The bank has set the following long-term goals: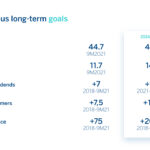 The Group expects to reach a return on tangible equity (ROTE) of 14 percent in 2024 vs. 11.7 percent in the first nine months of 2021¹. As for the cost-to-income ratio, BBVA expects it to improve to 42 percent in 2024, from 44.7 percent as of September 30, 2021. The bank also set as a goal an annual compound growth rate (CAGR) of 9 percent in the tangible book value per share plus dividends through 2024. Likewise, BBVA also reaffirmed its target range for the fully-loaded CET1 ratio, between 11.5 to 12 percent, a level that it comfortably exceeds at the moment.
As for customer acquisition, one of the Group's strategic priorities, it expects to add 10 million target clients² through 2024. In order to help its customers in their transition to a more sustainable future, another strategic priority, BBVA reiterated its Pledge 2025 to channel €200 billion in sustainable financing for the 2018-2025 period.
"BBVA has one of the highest levels of ambition among European banks as our goals are showing," said BBVA CEO Onur Genç. "We are going to be a larger and more profitable bank, with a unique value proposition, reinforcing our leadership in efficiency."
BBVA has defined this growth strategy in a context of profound changes impacting society as a whole, such as the accelerated adoption of digital channels and the decarbonization of the planet. In this context, BBVA believes it is in a unique position to seize the upcoming growth opportunities during the economic recovery and to foster profitable growth. First, the Group has leading franchises in attractive markets, with higher profitability than competitors. Second, BBVA is a trendsetter in digital transformation, which has helped increase customer acquisition through those channels; and sustainability, where it has recently doubled its goal of channelling sustainable finance. Third, BBVA stands out for its unique corporate culture. Fourth, a solid track record of financial results; fifth, a disciplined strategy of capital allocation. Finally, BBVA boasts a comfortable capital position, allowing it to grow profitably on its footprint, while increasing distributions to shareholders.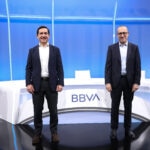 As part of the plans to grow in its main markets, BBVA singled out the voluntary takeover bid to acquire the remaining 50.15 percent in Garanti BBVA launched this week, a transaction that creates significant value for shareholders.
Additionally, BBVA has modified its shareholder distribution policy, increasing it to 40-50 percent of its annual consolidated ordinary profit, from the current 35-40 percent range. The implementation of said policy will materialize through cash dividend payments (one interim and a final one), which could be complemented with share buybacks. The policy applies to ordinary distributions, thus excluding the €3.5 billion share buyback program, which is an extraordinary one. The Group also announced that the first tranche of the buyback program -for an amount of €1.5 billion- will start its execution shortly after the Investor Day and it will not be subject to any maximum share price.
BBVA levers to achieve goals through 2024
BBVA also shared details about the strategy it will implement to seize opportunities and achieve its goals, through its six strategic priorities.
In order to become a larger and more profitable bank, BBVA will boost customer acquisition. It will also prioritize business verticals with higher value and growth potential, optimizing capital investment in a profitable way. Payments is one of these key segments, with innovative value propositions such as Aqua and payment platform for merchants Openpay. BBVA will also give priority to SMEs, private banking and asset management, and insurance. Corporate & investment banking, which currently accounts for 15 percent of the Group's revenue, is another segment with high potential. The third lever is digital investments in new and attractive markets, such as the recent launch of the first fully digital retail bank offer in Italy, or direct investments such as Atom in the U.K. and Solarisbank in Europe. On the other hand, BBVA will continue investing in the fintech arena through venture capital vehicles Propel and Sinovation.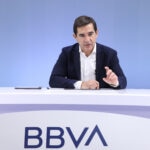 In order to be a distinctive bank for its clients, BBVA will continue to develop its value proposition, taking digitization to the next level thanks to the advice capabilities to improve the financial health of clients, while helping them in the transition to a more sustainable world.
Finally, BBVA aims to continue leading efficiency in the financial sector through operational excellence.
BBVA also presented growth strategies and specific goals for its main markets. In Spain, the bank plans to prioritize the use of capital in the most profitable products: consumer finance, SMEs and commercial banking. In Turkey, the goal is to continue being the best bank in the country, maintaining leadership in market share and profitability. In Mexico, BBVA aims to reinforce its leadership while increasing its customer base. As for South America, Peru will focus on growing the retail franchise, while Colombia will look to gain scale and grow in wholesale banking.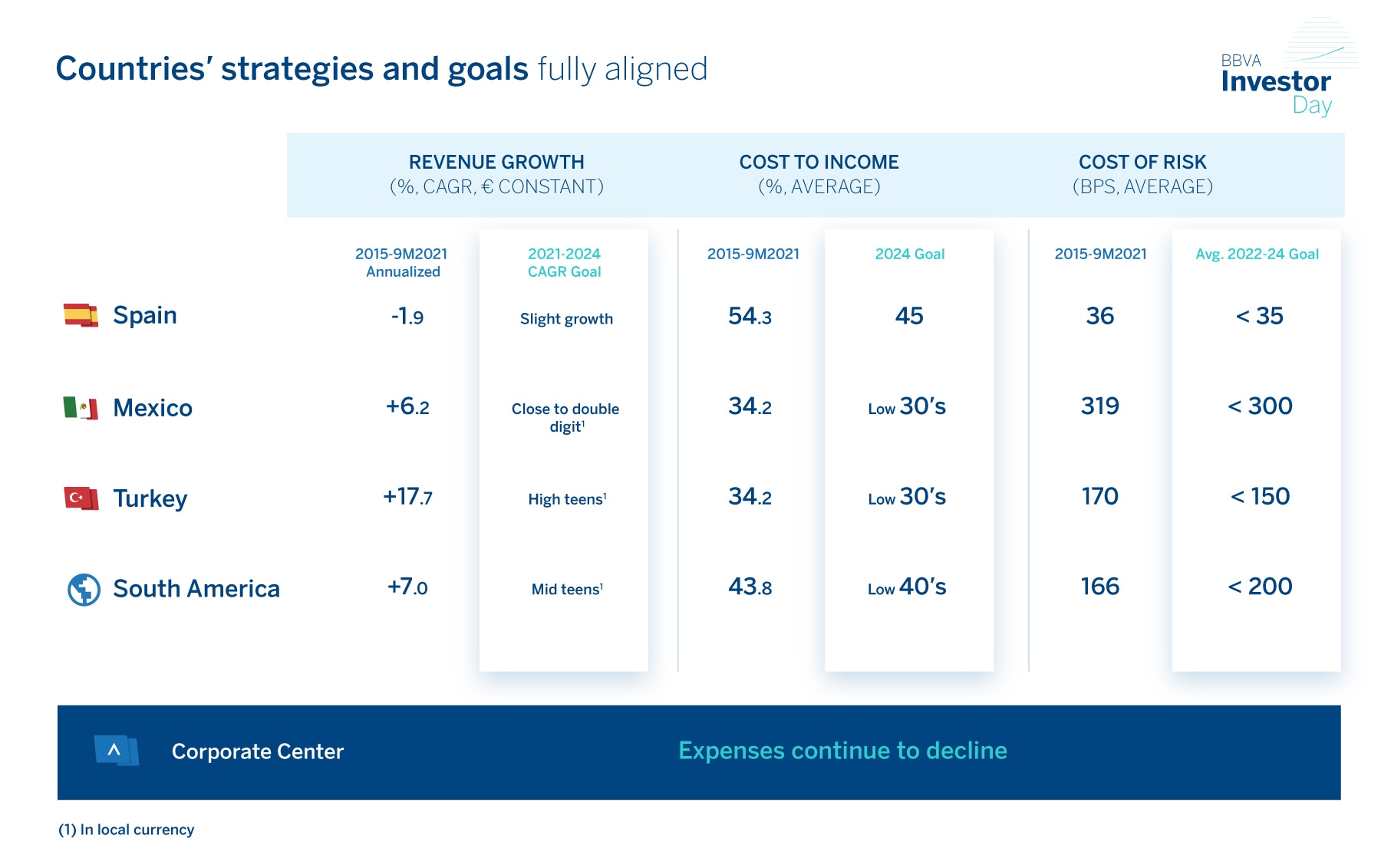 ¹These figures do not include non-recurring impacts.
²It refers to those customers that the bank wants to grow and retain, as they are considered valuable due to the assets, liabilities and/or transactionality with BBVA..