When Blanca Huergo knocked on BBVA's door less than two years ago, she could never have imagined that she would wind up visiting its Madrid headquarters to meet with its top executives. This young Mathematics and Computer Science student at the University of Oxford has become a role model for many girls in the STEM (science, technology, engineering and mathematics) career areas where they are scarce.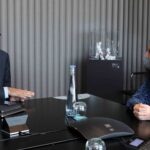 Blanca's goal was to receive funding in order to launch the first Spanish Informatics Olympiad for Girls (OIFem). She participated in the Informatics Olympiad and she wound up bringing home a gold medal. But there weren't many girls there and that sparked the idea of launching a women's Olympiad. "We decided to send a Spanish delegation to the European Girls' Informatics Olympiad and we needed to train girls. We looked for sponsors and I put together a training plan to train a group of girls," she explains.
BBVA saw in her a clear example of how to begin to transform things from within and decided to back her project. "Our goal in this first edition was to get a group of about 30 girls. Finally, 120 enrolled. They were students who had programmed very little and we managed to get one to win a bronze medal in the European Championship, it exceeded our expectations," she says. Together with other institutions, the Girls' Informatics Olympiad received BBVA's platinum sponsorship to make Huergo's dream of creating a generation of female programmers possible. This year, together with another group of former Informatics Olympians and the OIFem framework, she has also set out to create a community that helps female students not only to program, but to share their concerns and needs, and "to see that there are many more like them out there."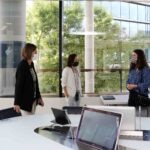 Blanca Huergo talks with Elena Alfaro and Lola Carrasco from BBVA - BBVA
Given the importance of diversity for BBVA and the focus it places on promoting female STEM careers, the bank invited the student to visit its headquarters in Madrid to meet BBVA  tech field professionals such as Elena Alfaro and Lola Carrasco, heads of Data & Advanced Analytics in Client Solutions and in Engineering, respectively. Both directors invited Blanca to take part in a meeting for 'Women in STEM BBVA,' the institution's working group created to promote the visibility of these types of profiles within the bank.
Be part of the solution
Blanca Huergo had the opportunity to meet with BBVA CEO Onur Genç and the Global Head of Talent and Culture Carlos Casas, who were interested in both her story and ambitious project despite her youth. These meetings were useful for understanding which elements of the bank's value proposition may be more interesting for other girls with her characteristics who are young and highly talented.
"I contacted BBVA because I closely follow their diversity initiatives and they seemed to have a very different approach. After meeting some of its executives, this idea was reinforced and I think it is a very attractive company for young talent," she says. In fact, the financial institution has positioned itself to be part of the solution to the problem both inside and outside the organization. Aware of STEM´s gender gap and the doubts that many girls face when considering careers in technology or science, the bank supports various initiatives such as being a global sponsor of the Inspiring Girls project.
Carlos Casas, BBVA's Global Head of Talent and Culture, receives Blanca Huergo at the bank's headquarters - BBVA
BBVA, which will continue to back Blanca for the second edition of her Olympiad, is working closely on other projects to promote scientific subjects among the youngest such as the Technovation competition in Spain, the #GirlsGonna tech workshops and more recently the STEAM alliance for female talent. Significant challenges remain that need to be faced by people like Blanca who step up and become inspiring role models for others: "To girls who can identify with my story, I would say to them to give mathematics a chance, try it and then decide if you like it or not. I wasn't aware before that mathematics is in everything, that's precisely what attracted me."