BBVA and Inspiring Girls join forces to fight for gender equality
Both organizations have announced a global collaboration agreement to promote equality among girls and young people with a focus on female role-models. "We are convinced that we can curb the impact of gender stereotypes in a simple and effective way, by teaching girls about successful women that can help them become aware of all the opportunities within their reach", said BBVA global head of Talent and Culture Carlos Casas.
BBVA has been working with Inspiring Girls for over two years on different initiatives aimed at children and teenagers in Spain. This productive partnerships has convinced the financial institution to become one of the leading global sponsors of the Inspiring Girls project at an international level. A partnership that will allow thousands of girls to connect with women working in different occupations wrongly perceived as masculine, providing them with inspirational role models to look up to in the 17 countries in which Inspiring Girls already operates. "We firmly believe that behind every woman, there is an inspiring story for girls," said Miriam González, founder of Inspiring Girls.
One of the goals of the agreement is to raise awareness among society about the impact of gender stereotypes on girls and to spark a public debate on the need to mitigate this impact. All this will crystalize in concrete and tangible actions that effectively solve the problem, both in Spain and globally. A job that involves women, but that concerns everyone.
"We will connect girls with all these women, not only personally, but also leveraging new technologies: Inspiring Girls' Video Hub hosts interviews with women from all walks of life, recorded by these women themselves, where they explain what they do and how they became what they are today," explains the head of Inspiring Girls. These contents are available in six languages. Any girl with access to an internet connection can learn about all these women's stories regardless of where they are in the world.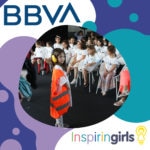 The diversity challenge has become one of the key drivers of BBVA's transformation efforts in employee management and training. For the head of Talent and Culture at BBVA, "the lack of diversity issue is present in all facets of society."  Ensuring a diverse workplace, in the broadest sense of the term, allows the company to better address the needs of its increasingly diverse customer base and offer a more comprehensive service. "From BBVA we work not only to improve the bank's position," - explains Carlos Casas - "but also to create a positive impact on society by collaborating with organizations such as Inspiring Girls, which inspire girls so that they can decide what they want to do with their lives without being constrained by gender biases."
Childhood, a key time in the fight for gender equality
Gender stereotypes are still very present in today's society. The United Nations addresses this issue in several of the Sustainable Development Goals (SDGs), with SDG 5 and SDG 4 specifically aiming to promote gender equality and an inclusive, equitable and quality education, respectively. Different studies have concluded that girls begin to distance themselves from areas such as science at the age of 6. By the age of 13, they have already succumbed to gender stereotypes, a situation that limits their career options at a very young age. Role models are a vital way to counter these stereotypes and the impact is clear - recent academic research published by academics at the Universidad CEU San Pablo and Universitat Oberta de Catalunya (UOC) with Inspiring Girls Spain showed that 'talks with role models broaden girl's minds, reduce stereotypes and boost expectations of their own success' (Gonzalez-Perez et al, 2020).
These decisions' impact on the future professional lives of young women is enormous because in the nascent knowledge economy, STEM subjects (science, technology, engineering and mathematics) are becoming increasingly essential to have a chance to pursue a decently remunerated career. But it also has severe consequences for society as a whole, because it means that it systematically deprives itself of an essential pool of talent.