Women engineers at BBVA: Science and technology is also a girl thing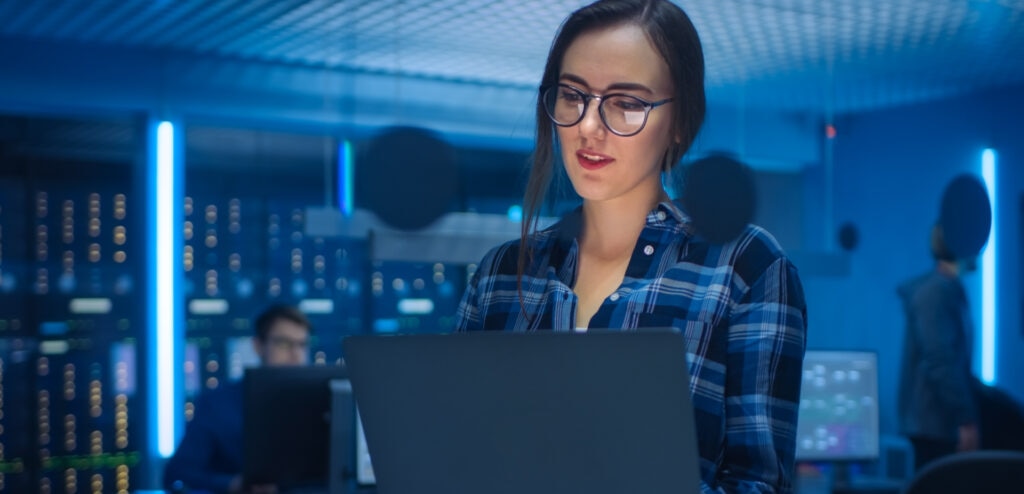 Although male stereotypes dominate science and technology, the reality is that these areas are becoming increasingly diverse and more women are gradually landing technical jobs. Today, February 11, on the occasion of the International Day of Women and Girls in Science, four professionals from BBVA's Engineering and Organization unit share their views on how to tear down barriers and get young girls more interested in tech jobs.
A few years ago, and even today, when talking about computers, programming, and software development, the first stereotype that comes to mind is that of a computer geek: a person (usually male) with weak social skills who is smart, disheveled, obsessed with computers, self-taught, and works around the clock.
But that is not an accurate depiction. Nowadays, it would be difficult to identify all the different roles available in tech by looking at someone's physical appearance.
Tech roles are as varied and different as those performed by these four women with technical backgrounds who today work in BBVA's Engineering and Organization unit: Jennifer Sesmero, computer engineer, head of training and talent attraction in Corporate Security; Natalia Heredia, telecommunications engineer, head of cross-functional network projects in Architecture; Berta Gómez, physicist and expert data scientist on the Advanced Analytics team and Ilse Anahi Esquivel, computer science graduate, who works at the data center in Mexico, as part of the Infrastructure and Operations team.
These four professionals agree on one thing: we need to believe in ourselves more. "I don't like to generalize, but in many cases, girls tend to suffer from imposter syndrome more, are more insecure, and tend to think things through a lot more. On the other hand, although there are many exceptions, boys tend to be more confident and believe they are more capable than they actually are in some cases," said Berta.
"Girls tend to suffer from imposter syndrome more, are more insecure, and tend to think things through a lot more"
Few people are probably aware of the key role women played during the development of computer science in the 1980s. In early 1984, 37% of computer science students in the United States were women. Similar figures were found in Spain, where 30% of the students were female in 1985. However, in subsequent decades, these rates dropped by 12 to 15% in Spain, according to data from a research conducted by Juan Julián Merelo and Cecilia Merelo.
"When I started to study Computer Science at the European University of Madrid in 2003, I was the only girl in the first course. In subsequent courses, there were three or four of us because some joined later. Thanks to that experience, we became close friends and have been friends for almost 20 years," said Jennifer.
Natalia had a similar experience: "Since I started in Telecoms, I have been in a world where we were in the minority. But that did not affect me at all. On the contrary, I believe that as women we can contribute extra value in the scientific and technological world, innate capabilities that we possess and know how to enhance."
Computer and telecommunications engineers and engineering physics
"Change, not always doing the same thing, continuously learning, and doing something innovative that required constant renewal, that's what I liked," said Ilse.
Berta, however, was inspired by her high school physics teacher: "He told us that he would teach the classes as if they were at college, and I loved it. I loved having to make an effort to detach myself from everything, to have a comprehensive view and, based on that, solve any kind of problem," recalled Berta.
Today, the percentage of women professionals in the fields of science, technology, engineering and mathematics (STEM) is around 30%, a figure similar to the early days, so there is still a long way to go to achieve equality.

Ilse Anahi Esquivel, Natalia Heredia, Jennifer Sesmero y Berta Gómez, engineers at BBVA.
Why would you recommend studying science or technology?
"There are a lot of opportunities in tech," says Jennifer. "Even more so in the current environment. It is a very broad sector, so there is a lot to choose from, different roles to take on and many possibilities."
For Berta, however, "having a science background helps me tackle almost any problem. One of the techniques used in science is to take a big problem and break it down into smaller pieces that can be solved more easily. Perseverance is also a very common attribute: if you stumble on something, you try looking at it from a different perspective. And that is something you can use every day."
The idea is not only to show what science and technology can afford us, but also what we can contribute. Natalia believes that "if in addition to knowledge, you have social skills, you know how to detect strengths and weaknesses and get the most out of each person, you will do very well. And I think that, on top of the personal skills that everyone may have, we must add certain innate skills that are more typical of women, such as attention to detail, empathy..."
Why, then, is the idea that the scientific or tech sector is dominated by boys so widespread? And what can we do to change this notion?
"In physics, mathematics, or chemistry, at least in my experience, there is a more equal ratio of women to men than in engineering or computer science. I think girls encounter obstacles from an early age," said Berta.
This view is widely held. According to José Antonio Gallego, head of diversity at BBVA, in his opinion column 'Women and STEM: a road full of obstacles', the main hurdles faced by women are—according to the AAUW (American Association of University Women), a non-profit organization that advocates gender equality—gender stereotypes, male-dominated workplaces, and a shortage of female role models.
Another factor Ilse points out is the cultural aspect. "I believe that choosing between one career or another is strongly related to the activities that women and men have historically carried out, at least in Mexico," where our colleague was born and works.
How can we inspire girls and women to choose Science and Technology??
"We already do it in cybersecurity when we go to training centers to talk about technology, our skill sets, projects, and the diversity of our teams. We also discuss the cybersecurity training plans we have at the bank and we show them the different roles and possibilities that exist, not only the financial aspects... This is a great time to transmit our enthusiasm. I love doing it," said Jennifer
"I have a son and a daughter and the best thing I can do for them, and for society in general, is to not label things, not fall into stereotypes, and not judge"
IIlse is committed to promoting "curiosity and continuous learning and the idea that women should not be afraid of change and that they must take advantage of all the opportunities that arise. My only message to the girls or women who read this is: Fight for what interests you. I'm sure you will achieve what you set out to do, like I have."
"I have a son and a daughter and the best thing I can do for them, and for society in general, is to not label things, not fall into stereotypes, and not judge. Who decides what boys or girls should do? I try to help them discover what they like the most and above all to not be afraid of making mistakes, to not see mistakes as something bad because in engineering it is the key to achieving great things," said Natalia.
Although the current situation is not critical, there is still a considerable gender gap in the field of Science and Technology. Attracting girls, young women, and women to technological and scientific fields is not only a way to create a more egalitarian society. It is a necessity, a challenge that we have to tackle as a society and in which we all play a vital role. Technology and science cannot be just for boys. Everyone must help create more opportunities for women in these sectors.