The financial institution celebrates Diversity Days, a conference that highlights recently implemented projects in this area and that draws a roadmap with the challenges and goals for converting diversity into the Group's DNA and as a key objective for the future.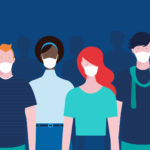 "Diversity is one of our priorities and although 2020 has been a complicated year in many aspects, our effort to build a work environment where everyone feels included has prospered," says Yolanda Martínez-Bajo, Head of Talent and Culture at BBVA in Spain. In an event aimed at employees around the world, the bank's head of people management reviewed the milestones achieved in the last year; he presented various testimonies of how these policies are impacting many collaborators and explained the content that they will offer to all the Group´s employees during several days to delve deeper into this important issue for the institution.
"In a global organization such as BBVA, with headquarters and offices in different countries with different cultures, diversity and inclusion are present every day," explains Martínez-Bajo. The Head of Talent and Culture in Spain reminded employees that "diversity and inclusion are part of our strategic priorities and are one more business objective, in which each area of the bank is responsible for its plans of action to achieve them."
Some of the conference´s scheduled webinars will deal with overcoming unconscious biases, identifying micro aggressions and how to avoid them, and how to create inclusive workspaces.
One of the issues that the organization is working on most is adapting work/life balance measures to the current situation. In response, BBVA has launched 'Daddy Tracks,' an initiative to promote joint responsibility between men and women. This campaign is helping to increase the amount of paternity leave days in countries where it is the lowest and invites employees who have become fathers to enjoy full paternity leave, one of the best ways to help reduce the professional gap between men and women.
Yolanda Martínez-Bajo, Head of Talent and Culture at BBVA Spain, during the Diversity Days.
Claudia Goldin, one of the pioneers in gender gap studies, has made a case in favor of this. In a video screened at the event, the professor of economics at Harvard University and a BBVA Foundation Frontiers of Knowledge Award winner reflected on this problem. "One of Claudia Goldin's main conclusions is that by encouraging men to enjoy their families we are also promoting more equitable professional growth for women, and that which is known as a face-to-face interaction model is becoming more a thing of the past," explained Pablo Martín Almaraz, Head of Talent and Culture at BBVA in México.
BBVA employees also learned about the case of El Celler de Can Roca, one of Spain's most celebrated gastronomic venues, and its work/life balance efforts. Joan Roca explained the double shift system implemented in the restaurant to help its employees combine the hospitality industry´s complicated hours with their personal lives. It is still a pioneering measure in the sector and one that the Roca brothers struggle to get the word out on to help its implantation.
Projects in favor of diversity around the world
Seven out of 10 women suffer abuse in Mexico. The country experienced an 80 percent increase in the number of calls to domestic violence hotlines during the months of confinement. In response to these figures, the bank launched a support hotline for domestic violence to provide emotional support and containment services, medical assistance, legal and psychological advice, and referral to expert organizations.
In Spain, its diversity and inclusion labs have stood out for the large number of senior management and members of the sales network who have taken part in reflecting on diversity and how an inclusive professional behaves. Another of the measures that is causing the most impact in terms of work-life balance is the On / Off Campaign, which encourages responsible habits for digital disconnection.
One of the most interesting initiatives launched in Colombia has been the creation of nine groups of employees trained to work on diversity within the bank from different collectives (women, people with disabilities, new generations, LGTBIQ +, protected populations, intergenerational), directly supported by a member of the steering committee. From these working groups, 18 lines of action have already emerged to promote a more inclusive culture within the bank in this country.
A clear commitment to diversity
Within Diversity Days´ framework, BBVA Research published the report 'Gender diversity and the digital economy,' which provides data on the current situation of women in the Spanish workforce and the impact of the pandemic on the gender gap. The study also delves into the role of education, STEM careers, and the digital economy in reducing gender differences.
In addition, BBVA announced the institution's global collaboration with Inspiring Girls, an organization that works to promote female references, especially in the STEM fields, and that connects thousands of girls with women from different professions mistakenly perceived as male-dominated. Some participated in these conferences to explain their personal experiences in these workshops.
Carlos Casas, Global Head of Talent and Culture at BBVA, wrapped up the event by encouraging all BBVA employees to participate in these activities, to take part in workshops in different regions, and to "to promote diversity and inclusion in our daily lives, in our environment and within our teams."