Carlos Torres Vila: "I think the infusion of public funds must contribute to achieve a more digital, sustainable and inclusive society"
The BBVA Chairman kicked off MoneyFest, this year's virtual edition of Money2020. In an interview with Spriha Srivastava, Executive Editor overseeing the London Newsroom of Business Insider, he shared his insights into the trends that the pandemic has accelerated, such as digitization and sustainability. Carlos Torres Vila considers that this crisis can be an "opportunity to reset our world." In this sense, he noted that the "infusion of public funds must contribute to achieve a more digital, sustainable and inclusive society."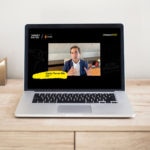 In order to achieve this, " banks have a very important role so the public funds are invested to repair the manage and prepare for a fast recovery and a longer-term higher-growth." Thus, he explained, the private sector can create a multiplier effect as regards public funds, ensuring that they are dedicated to the sectors that can be more productive for the economy.
 The massive use of technology in everyday life is here to stay
Although many things with the pandemic have changed and will go back to normal, Carlos Torres Vila explained that the "massive use of technology in everyday life is here to stay." "This is a great opportunity that through technology, through data we can provide better service, have a more profound impact on people's lives and businesses," he said during his participation in this event, which brings together leading experts from multiple industries to discuss innovation in the financial sector.
"We have all been adapting to stay in contact with friends, to new  forms of work, new ways of organizing events," he said. A change that has also affected the habits of consumers who "massively changed their habits towards ecommerce and got used to accessing services of all kinds: medical care, social assistance, entertainment for sure, and also financial services, through digital."
From BBVA, "we have guided our customers to stay home. We have guided our customers to use our digital and remote channels," he explained. The institution has also used its remote capabilities to stay close to those customers that need it the most, such as small entrepreneurs and self-entrepreneurs. "Overall, 66% of our sales happened through digital in the second quarter of 2020," he said.
But besides digitization, the pandemic has also accelerated other trends such as sustainability, diversity and social movements. For Carlos Torres Vila, "bank are an important part of society and we can be, we must be, we are part of the solution to the problems we're facing now." Banks need to finance the transition towards a more sustainable world from an environmental, and a social, perspective. BBVA anticipated this trend and saw it as an opportunity, even before the pandemic, he said. "And that is why sustainability is one of our priorities."
Takeaways and lessons learnt during the pandemic
Regarding the takeaways and lessons from the pandemic from a personal and professional standpoint, Carlos Torres Vila recognized that "it's been certainly a huge challenge, as it's been for everyone I think because of the big disruption to everyday life." The BBVA Chairman detailed that the Group's approach to the pandemic was built on two critical factors: anticipation, promoting remote working from home everywhere, in all the countries where we're present; and the coordination of initiatives sharing best practices across countries.  All this combined with a very prudent approach throughout the pandemic as a whole.
BBVA's priorities during the crisis have been, first, the health of clients and employees and society as a whole; second, to maintain its service, remain close to the clients and support the recovery; and finally, to monitor and manage the impact of the pandemic on the business. Finally, the Chairman underscored that "situations that are critical such as the ones we have gone through, are the ones where we see people, companies and society as a whole really bring out their best."
To see the full video click here.