After announcing that the bank will have 35 percent women in management positions in 2024, BBVA has launched the high performance program 'I am female talent', which is geared toward the bank's female employees with the greatest potential for growth. The bank has also presented a new remuneration policy for executive directors, which includes a diversity indicator as part of the variable incentives.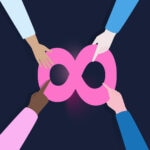 "At BBVA, we have been making decisive progress in gender diversity for a long time now and in 2022, we set the objective to reach 35 percent of women in management positions by 2024," recalled Carlos Casas, Global Head of Talent and Culture at BBVA. An ambitious, concrete and measurable goal that has the support of both the Chair and the CEO of the bank. They review data on promotions of female talent at different levels of the organization on a quarterly basis in order to determine whether the measures applied are producing positive results.
In addition, in 2023, the bank announced a new remuneration policy for executive directors to be approved at the next Annual General Meeting. It includes a diversity indicator as part of its long-term variable incentives. Therefore, three year variable pay for these directors will depend on a five percent evolution in the number of women in management positions. "This measure joins the battery of initiatives that are helping to increase the number of women in leadership positions," he explained. At the end of 2022, the number of women in management positions was 33.5 percent. Throughout the year, significant data was obtained on the number of promotions: there were more promotions for women than men in all countries.
In early 2022, the goal was accomplished to reach 40 percent women on the Board of Directors before the end of the year. BBVA has released the items on the agenda for its 2023 Annual General Meeting, where the appointment of Sonia Dulá as a new board member will be proposed, as well as the re-election of four other board members. With this proposal, the goal on female representation would be further strengthened.
'I am female talent'
In the current context, marked by the hybrid work models, leadership is key to the development and evolution of the cultural transformation of any company.  "At BBVA, we encourage our employees to be aligned with the corporate values, attitudes and behaviors to give them the opportunity to exercise them. The goal is to contribute to an agile culture of confidence that is capable of providing real solutions to the demands and needs of all of our customers," Casas said.
In order to continue moving forward in this direction, the bank has launched 'I am female talent' with the goal of recognizing, giving visibility to and making tangible the talent of women at BBVA, so that they have the opportunity to demonstrate their full potential and exercise their qualities and abilities in an empowering environment. This new initiative aims to contribute to the empowerment and leadership of those women with remarkable progress and will offer them selected training from a gender perspective. "The women who access this high performance plan will be able to select the training that adds value for them, and range from short courses focused on specific skills to complete leadership programs," he explained.
The specific programs can be customized for each employee and will include resources like an online coaching platform, Master's programs at the most prestigious educational institutions, personal branding workshops and courses to promote female talent and identify limiting habits. "Selected professionals will also be closely accompanied by their bosses and will have access to the internal mentoring platform, where they can request mentors whose experience can guide them as they face concerns along the path of self-leadership and empowerment," he added.
In addition, the women who participate in the program will be first to form part of a networking group in which they can meet, share reflections, concerns and best practices. "There will be periodic meetings throughout the year, they will have access to different participatory activities and dynamics designed to build their capacities, such as 'speed networking', inspirational talks and thematic breakfast meetings. They will also have a virtual space that will inform them of participation in meetings, external meetings and additional information," he affirmed.
Women's Day
BBVA was recently selected as one of the most advanced companies in the world in terms of gender equality, according to the 'Gender Equality Global Report & Ranking'. Equileap, an organization that aims to promote progress to gender equality in companies, creates this ranking on an annual basis. BBVA is listed as the third Spanish company on the list, and the top Spanish bank.
Coinciding with International Women's Day on March 8th, Elena Alfaro, the Head of Data and Advanced Analytics at BBVA, participated in the Spanish Banking Association's (AEB) campaign, 'Women have a lot to say' in which different female leaders share their experiences transforming the banking sector. "The feminization [of the sector] has been very positive so that people see that work-life balance is normal and not the exception," Alfaro said in a campaign video where she stresses certain characteristics such as friendliness, empathy and cohesion in the teams that have progressively incorporated women in leadership positions.
Furthermore, 25 women at risk of social and labor exclusion will participate in the event 'Reinvent yourself: there are infinite opportunities', organized by volunteers at BBVA Spain, in collaboration with Fundación Quiero Trabajo (I Want a Job Foundation). Teams from the Engineering area and BBVA IT Spain will teach the workshop 'Showcase yourself' and a programming session that will allow the participants to apply knowledge of programming languages to the goal of being able to join the working world in a sector related to technology.
Another initiative organized by the Bank of Spain is the program 'You can be' designed for employees' daughters between the ages of 13 and 18. It aims to eliminate gender biases, offer role models and promote female talent through in-person and online sessions with professional from the bank.