Financial education - the key to improving the lives of two million people in 2018
2018 was another year of commitment to financial education at BBVA. Over the year, the bank supported a variety of different programs and initiatives to help people get the financial skills and abilities they need to make informed decisions.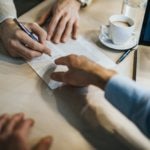 Two million people - including children and young people, adults and SMEs - have benefited from BBVA's financial education initiatives in the countries where the bank has a presence. This figure accounts for 25 percent of the eight million people around the world benefiting from the banks social programs.
For BBVA, financial education is a strategic priority in the bank's Community Investment Plan. In 2018, BBVA invested €7.6 million in this area.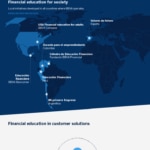 BBVA has a long-term commitment to financial education, investing more than €80 million and supporting more than 13.4 million people since 2008 under its Global Financial Education Plan. This plan is based on three main pillars .
Financial education for society
As part of the objective to foster the acquisition of knowledge, abilities and attitudes in all countries where BBVA has a presence, BBVA both develops it own programs, and collaborates with third parties in order to help people improve their knowledge of financial concepts and change behavior for financial decisions.
Among the different initiatives that have been carried out, the following stand out:
1. Valores de Futuro (Future Values) - Spain
"Educating students in financial education is preparing them for the future." Under this slogan, which serves as a declaration of intent, Valores de Futuro is a program designed for primary schools and seventh and tenth grade students. Its mission is to promote the values associated with the proper use of money and savings among children and young people through financial education.
Valores de Futuro is holding its 10th edition this year, with more than 17,000 students participating in 150 schools. They all have the chance to hold a savings drive, participate in one or several of the eight financial education workshops taught by BBVA employees, or download the workshops for primary and secondary students to use them in their classrooms.
2. Escuela para el Emprendimiento (Entrepreneurship School)  - Colombia
"Escuela para el Emprendimiento [Entrepreneurship School] is a classroom project that is carried out in conjunction with the Colombian Secretariats for Education. It makes it possible to integrate the training of students and teachers in financial and entrepreneurial skills and stimulate ideas for businesses." With these words, Mauricio Flores, Director of Corporate Responsibility at BBVA Colombia presented this initiative in 2018 as a success story at an event organized by the Colombian Banking Association.
Since 2012, Escuela para el Emprendimeinto has achieved that more than 190,000 students and 1,090 teachers from 420 educational institutions design their business ideas. The positive impact of this program allows participants "to be self-sustaining to continue their higher education, or technical studies, and even support their families".
3. BBVA Bancomer financial education - Mexico
At BBVA Bancomer, financial education is the key to people having the knowledge they need to use financial products and services - something that has a direct impact on their economic and personal well-being. For this reason, the bank makes all kinds of digital resources available to users on its specialized portal, in addition to in-person initiatives, such as specialized sessions and fairs. On its financial education website, BBVA Bancomer offers simulators for credit cards, inflation or savings, which allow users to create a budget, set goals or plan for retirement, for instance. It also has resources like online workshops on topics such as savings or credit cards.
4. Financial education for adults BBVA Compass (U.S.)
For BBVA Compass, financial education is a vehicle that serves to offer people the best opportunities. In 2018, the bank launched the BBVA Compass Center for Financial Education Community Partner Program - a series of financial education workshops held in collaboration with non-profit organizations and taught by volunteer experts from BBVA. BBVA Compass expects to triple participation in this initiative from 2,900 people in 2018 to 10,000 in 2019.
5. Financial education in customer solutions
Since 2017, BBVA has been transferring its experience in teaching financial education in a practical way to customer experience. Financial education allows BBVA to support customers throughout the entire process  in order to facilitate informed decision-making. This will enhance their financial health and allow them to access the best opportunities.
For example, in 2018, BBVA launched the tool Bconomy in Spain to help customers keep track of their expenses, create a financial cushion and set savings goals.
Promotion of financial education
For BBVA, financial education is highly valuable for both societies and individuals as a source of opportunities and a way to reduce inequality. It is essential to raise awareness of the need for financial education and foster collaboration among the different relevant actors for financial education and skills.
For this reason, in 2017 BBVA created the Center for Financial Education and Capability, which channels the bank's efforts to promote the importance of financial knowledge and skills as a fundamental issue that has a direct impact on people's well-being.
BBVA collaborates with different national and international organizations, such as the World Bank, the Inter-American Development Bank (IDB), CAF Development Bank of Latin America, the Organization for Economic Cooperation and Development (OECD), the Ibero-American General Secretariat and the European Banking Federation, among others.
It also promotes the creation of multidisciplinary spaces for knowledge and debate, such as the EduFin Summit. Every year more than 200 people from 16 countries participate in this summit to share knowledge and address current and future challenges in financial education. 
Finally, BBVA promotes research, supporting innovative research projects and collaborating with more than 10 research centers around the world. The bank has also launched different initiatives to integrate financial education in customer solutions. The new website launched in Mexico, Colombia and Peru is one example, as are the different initiatives designed to improve customers' financial health through the previously mentioned Bconomy. In 2019, the bank will continue its efforts to make BBVA's purpose a reality through financial education and the creation of new opportunities, thanks to knowledge and the acquisition of skills.