Diversity is a fundamental cornerstone of BBVA's approach to people management and training. The holistic method the bank has adopted to address this topic encompasses the values of equal opportunity and inclusion. One of the initiatives to promote these values is to provide employees with the tools to help them remove barriers that hinder female talent and work-life balance. 'High Potential Women' is an example of one of the initiatives significantly contributing to this task.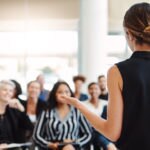 Aiming to affirm female talent and eliminate barriers to promoting women into positions of responsibility, BBVA has kicked off the initiative 'High Potential Women,' which provides guidance and support to women with high potential, while concurrently measuring the effectiveness of the process itself. The initiative focuses on identifying repeated behaviors that undercut women's opportunities for success, to isolate difficult situations in which women do not receive support or guidance, and to level the playing field between men and women.
To this end, a program has been instituted to provide support to selected women with high potential over the course of their professional track. Thus, the initiative seeks to rebalance the percentage of female diversity in high level positions throughout the organization. The program offers participants personal support via sponsors or mentors, focused training to develop skills, coaching, networking sessions, career path development with a promotion track element, and periodic reviews of the processes from a diversity standpoint.
In parallel, BBVA has arranged speed networking activities, focused on helping young women overcome networking hurdles. In these sessions, bank employees with longstanding careers as senior professionals volunteer to provide young women guidance on professional topics, information to which they would otherwise not have had easy access.
A measure recognized by the Global Compact Network
The Spanish Network of the UN's Global Compact has recognized BBVA as a key player in addressing this topic and has chosen 'High Potential Women' as one of the best business practices linked to SDG 5. Women's empowerment continues to be a central element of this organization's efforts to address social, economic, and political challenges worldwide, which is why it wanted make special mention of those measures that are contributing to the fulfillment of this objective, by publicizing innovative approaches in a special SDG 5 report published specifically to commemorate International Women's Day.