Sustainability and digitization, key levers in successful transaction banking models
BBVA recently brought together its wholesale clients with sustainability and digitization experts in a conference centered on the future of transaction banking. Companies such as Acciona, PepsiCo and Tigo Colombia had the opportunity to present their sustainable and digital development models, in which BBVA's transactional banking products have played a key role.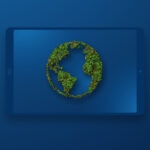 "Sustainability and digitization entail a change of such scale and so significant that it requires companies to make huge investments to deliver on their commitments which need to be straightforward and specific." With these words Eva Rubio, BBVA's Head of Global Transaction Banking, opened a conference organised by BBVA to offer its wholesale clients some of the trends that leading companies are developing in these areas. Under the tagline "The challenges of the present for a better future", the conference drew in some 500 attendees from more than 25 countries. This two-day event brought together 24 speakers from 13 different institutions.
One of the most prominent speakers of the different discussion panels that addressed the issue of sustainability, the first day's topic, was naturalist Nacho Dean, the first person ever to swim across the straits that separate five continents, and to walk around the entire planet. Dean spoke about some of our planet's most pressing issues in terms from a social inequality and environmental crisis, pointing out how financial institutions and socially responsible investments are "the most powerful and effective means to transform the world."
Besides Nacho Dean, representatives from leading companies in the field of sustainability, including Tigo Colombia and Facebook, shared their experiences with BBVA's clients. BBVA has worked closely with some of these companies to help them develop and execute their sustainable financing strategies. Some good examples of this are the social collaterals that allowed Tigo to bring the internet connection to the most isolated territories of Colombia or Acciona's sustainable reverse factoring line of credit. Regarding the latter, Acciona Senior Manager of Sustainability and Quality, Miguel Portilla Bullido emphasised that "working with partners such as BBVA, who share with a wide range of ESG-linked products and services, serves both as a confirmation that our behavior is on the right track and a motivation to stay on it.
Sustainability panel: José Luis López-Sors (Head of Global Transaction Banking America, BBVA), Maren Lau (VP for Latin America, Facebook), Miguel Portilla Bullido (gerente de calidad y sostenibilidad, Acciona), Javier Rodriguez Anguita (gerente financiero, Acciona), Ana Marina Jiménez (vicepresidenta de asuntos corporativos, Tigo Colombia)
The central topic during the second day was digitization. BBVA considers digital security to be of vital importance and dedicated a full panel to the challenges involved. With the widespread roll-out of remote work schemes and employees bringing their laptops home, companies are required to manage thousands of remote connections which multiply cyber security risks. A growing number of attacks target supply chains and suppliers as a gateway to other companies. More isolated work modalities also increase the risk of internal attacks.
Faced with this increasing number of threats, ignoring the issue of digitalization is no longer an option for any business. In fact, companies are finding that being a digital pioneer in their respective industries can help them reach more customers, cut operating costs and facilitate logistics for their stakeholders.
Such was the case of the clients who took part in the last of the conference panels. All these companies have something in common: they all need important digital solutions to develop their services. Solutions that range from the implementation of payment processing systems in small stores across Mexico via QR codes being implemented by PepsiCo to the technical capabilities required to operate domestic treasury centers, such as connectivity via SWIFT gpi. The use of APIs in their different modalities, was another game-changing technology discussed.
Facing all these challenges also required BBVA to evolve. "Sustainability and digitization has changed the way the bank interacts with its clients," said Marina Andrés, Global Head of Transaction Banking Advisory at BBVA. "With growing interest, BBVA wants to accompany its clients in these investments, and to do so, we're constantly rethinking the way we deliver our products," she concluded.