"Work in the Age of Data": BBVA OpenMind's new book that explores the future of employment
"Work in the Age of Data" is the 12th book in the collection published by BBVA to disseminate and discuss fundamental issues of our time. This series is part of the bank's OpenMind project -- a digital community that aims to generate and disseminate knowledge in an open and free manner.
The book, which addresses the effects of the digital revolution on the labor market, can be downloaded for free in Spanish and English in different electronic formats.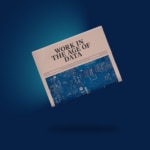 The exponential increase in data processing, transmission and storage has transformed people's lives in many ways. The changes this new age has brought about are particularly profound in the labor field, and the book "Work in the Age of Data" — OpenMind's latest addition to its annual series — addresses this issue.
Through OpenMind, BBVA has annually published a series of books since 2009 that analyze and disseminate key issues currently of interest. Each volume consists of articles written by prominent international experts who discuss a range of topics from different perspectives on issues that affect people's lives, and which are capable of determining their future.
On this occasion, the focus is on the fundamental changes taking place in the labor market as a result of the technological revolution. In 16 articles, 19 authors explore some of the global challenges facing mankind. The relationship between new technologies and inequality, the need for a new social contract and some public policies for the digital age; and analysis of how artificial intelligence is affecting China's labor market are some of the topics analyzed in the book, which also addresses the recent boom in the so-called 'gig economy', productivity, inclusion and the polarization of employment.
"Work in the Age of Data" includes contributions by prestigious international experts in various fields, such as Philippe Aghion, a Professor at the Collège de France and London School of Economics; Zia Qureshi, a researcher at the Brookings Institution; Alison Maitland, a writer and adviser; Rafael Doménech, the Head of Economic Analysis at BBVA Research;  Kai Fu-Lee, the Chairman and CEO of the venture capital fund Sinovation Ventures; Manuel Muñiz, current Secretary of State of Global Spain and former Dean of the School of Global and Public Affairs at IE University; and Carmen Pagés, the Chief of the Labor Markets and Social Security Division and the Inter-American Development Bank, among others.
The book can be downloaded for free on the OpenMind website and is available to read in different electronic formats. It is also possible to download and listen to the chapters in audio book format.