Summer is synonymous with more time for reading. Here we provide 10 nonfiction titles that that will give you a broader view of a world in change.
'The Inversion Factor: How to Thrive in the IoT Economy'
Especially recommended for technologists and executives, this book (edited by MIT Press) is meant to incite a bit. Its theory is that, with the hyper-connectivity that enables the Internet of things, businesses should focus less on their products.
The authors (Linda Bernardi, Sanjay Sarma and Kenneth Traub) formulate the following thesis: intelligent objects, thanks to the Internet of things, imply a fundamental change for businesses. Now businesses shouldn't fixate on investing in a product that does something, rather they should look to solving customer requirements in a holistic way, changing the customer experience. They explain it all in detail with texts and interviews about the reigning innovative companies -Amazon, Airbnb, Uber, Google, Tesla, Apple…-and other less know businesses like Tile, Visenti, Augury and Zipcar.
'Innovating: A Doer's Manifesto for Starting from a Hunch, Prototyping Problems, Scaling Up, and Learning to Be Productively Wrong'
The Spanish author of this book, Luis Pérez Breva, runs the MIT Innovation Institute, an entity affiliate with the prestigious U.S. university and dedicated to promote innovation and entrepreneurship.
He presents this work almost like an instruction manual for innovation, contending that a world-changing, great idea isn't what's required, rather small steps that anyone can take can lead to something much greater. Innovating is doing, rolling up your sleeves and getting your hands dirty.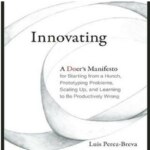 'Innovating: A Doer's Manifesto for Starting from a Hunch, Prototyping Problems, Scaling Up, and Learning to Be Productively Wrong' - Audiobooks store
'Dream Teams'
In this article the journalist and entrepreneur Shane Snow explains that he was inspired to write "Dream Teams", a reflection on leadership and teamwork, because of his personal concern over his own professional trajectory: in his own words, he went  from the "guy who decides and builds things" to the "guy who manages other people who decide and build things."
This is his starting point for compiling aspects of neuro-science, psychology, and history to put together a theory that argues that a good deal of what we think we know teamwork and leadership is wrong.
'The Truth Machine: The Blockchain and the Future of Everything'
The technologist, Michael Casey, and the journalist, Paul Vigna, have written a book that has become a fundamental reference resource for the technology of the day, blockchain.
Without excessively focusing on cryptocurrencies, this book explains the technology's social premise and even touches on the philosophy behind  it: a decentralized system that removes intermediaries and empowers individuals, just as the cyberpunks dreamed in the 1990s.
These somewhat Utopian ideals are reflected in aspects of our reality, as the book fleshes out, but how the technology develops and the role it will play in large companies is still to be seen.
'Numsense! Data Science for the Layman: No Math Added'
"Numsense! Data Science for the Layman" is a good guide for all those who don't have a strong mathematical background but who want to enter into the world of big data and its jargon.
The authors, Annalyn Ng, a data scientist, and Kenneth Soo, a mathematician, try to be educational, using simple terms to explain concepts that are increasingly important in the digital economy (regression analysis, neural networks, random forests), using real world examples, reinforced with illustrations.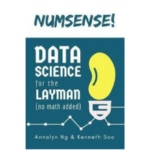 'Numsense! Data Science for the Layman: No Math Added' - Amazon
'Generation Robot'
"Generation Robot" studies how the concept of artificial intelligence impacts popular culture.
The author, Terri Favro, begins her journey in 1950, the year of Isaac Asimov's book of science fiction stories "'I, robot", which addressed moral dilemmas related to robotics. With this as the starting point, Favro uses a personal and entertaining style to describe society's hopes and fears in the face of technological progress.
'Post-Truth'
At the end of 2016, "Oxford Dictionary " chose post-truth as the word of the year in recoil to Donald's Trump victory in the U.S. presidential election. This phenomenon is not new, but technology, social media, the crisis of traditional media gave it an unusual revival that the philosopher and writer, Lee McIntyre analyzes in this controversial book.
His thesis is that contemporary societies must combat post-truth, but an imperative prerequisite is to understand the phenomenon: its roots lie in prejudice and cognitive biases, it grows through social media platforms and digital media, and it is used for political purposes, impacting the daily life of hundreds of millions of people.
'Black Edge: Inside Information, Dirty Money, and the Quest to Bring Down the Most Wanted Man on Wall Street'
At the end of 2013, the U.S.  justice system handed out the largest fine in history for insider information. The hedge fund, SAC Capital Advisors, one of the most powerful on Wall Street, agreed to pay more than $1.8 billion to settle the case. SAC Capital Advisors' founder,  Steven Cohen, could afford it: his personal fortune was estimated to be $9 billion.
'Black Edge' – a term specific to hedge funds, which refers to inside information that gives traders a clear, and illegal, advantage - is a long journalistic chronicle of the SAC case. If it seems familiar to viewers of the TV show "Billions" that's because it's  based on the true story which is told in detail in 300 pages by Sheelah Kolhatkar, a journalist for The New Yorker and former financial analyst.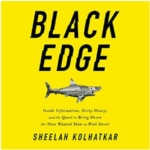 'Black Edge: Inside Information, Dirty Money, and the Quest to Bring Down the Most Wanted Man on Wall Street' - Amazon
'Bad blood. Secrets and lies in a Silicon Valley startup'
After three years of following Theranos, a startup that fraudulently claimed to be developing a revolutionary way to conduct blood tests, John Carreyrou, investigative journalist for The Wall Street Journal, finally published "Bad Blood" last May. He tells the story of what is considered to be the biggest corporate scam in the United States since the Enron scandal.
Theranos' founder and CEO, Elisabeth Holmes, had amassed $4.5 billion by the time she was 32 years old, but her fall was fast and hard. After the company's implosion, and now at 34, Holmes is facing a U.S. Department of Justice motion to put her in jail for 20 years on charges of fraud and collusion.
Where at one time she was seen as hugely successful, now no one would put her in the same league as Steve Jobs, who was, according to Carreyrou, her idol. The journalist rigorously details the story, replete with juicy anecdotes after interviewing more than 150 people, among them, more than 60 Theranos employees.
'Brotopia: Breaking up the boy's club of Silicon Valley'
Silicon Valley is no place for women. This is the thesis of "Brotopia" a book in which the Bloomberg journalist, Emily Chang, describes the sexist culture which, in her opinion, rules the world's center of corporate innovation.
What's the cause the testosterone excess in Silicon Valley? Chang identifies various causes, describing an environment plagued by "micro-aggressions" that are so subtle and common that they almost go unnoticed.
She also partly assigns responsibility to women themselves: in an ecosystem where knowing how to sell the project is just as important as the project itself, often times women lack the confidence and conviction required for success. The journalist points out a possible solution: creating quotas for women board members and management.