Scientific culture to fight against the post-truth and populist leaderships
"We have a powerful science, but when it comes to individual and, especially, public decision making processes, we fail to harness that power, because its validity is denied or put on an equal footing with baseless opinions." With these words Francisco González summed up the spirit that presided over the BBVA Foundation's Frontiers of Knowledge Awards ceremony.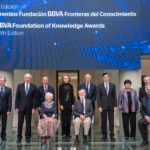 All event attendees —which included Teresa Ribera, Minister of Environmental Transition, Rosa Menéndez, Chairman of the Spanish Higher Council of Scientific Research, and many prominent figures of the scientific community and the national and international artistic world— noted, in one way or the other, the importance of scientific culture as line of defense against decision-making processes that, especially when it comes to some relevant issues, turn their back to evidence, paving the way to populist leaderships.
BBVA's Group Executive Chairman also recalled how the awards were born ten years ago to "celebrate the efforts aimed at understanding the natural and social world and artistic creation," and pay tribute to the scientists and creators that contribute to expand our vision of the world and to bring more opportunities for everyone. Through these awards, "we aim to bring some of the elements of the research and creative process closer to society."
Evidence-based information vs. biased narratives
These elements —such as the principle that a statement must always be substantiated and based on evidence— are helpful for everyone, in a digital society where unfiltered information flows freely and where it can be "hard to tell the difference between validated knowledge" and manufactured narratives that conceal "spurious interests," said Francisco González.
"In three decades, we have gone from limited and asymmetric access to information and knowledge, to a situation of overabundance," a shift that "we should all welcome," and which at the same time poses the challenge of "finding your way in an ocean of disparate sources and purposes."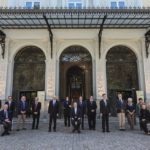 Winners of the BBVA Foundation's Frontiers of Knowledge Awards.
And the challenge is even harder with the rise of social media, the main source of information for huge segments of the population, where fact-checked data are "presented alongside subjective and biased opinions." For BBVA's Group Executive Chairman, many times, social media websites offer "an apparent certainty at the expense of the truth."
Today, "the impressive stock of cognitive capital coexists with the so-called post-truth. Deliberate fabrications, concealment of truth and propaganda are by no means new phenomena. What is new is how unashamedly the shadow of doubt is cast over the best knowledge. Today's resurgence of populist movements is correlated to the ongoing assault on scientific rationality and empiric evidence."
Harvesting water from the desert air
In his acceptance speech, Omar Yaghi, prize recipient in the Basic Sciences category, underscored the importance of the discovery that has earned him the award.  The MOF and COF crystals are "useful in a myriad of applications, not the least of which are harvesting water from desert air and capturing carbon dioxide from the atmosphere. They are being studied by over 1,000 researchers worldwide," he noted.
James P. Allison, winner in Biomedicine and one of the pioneers of oncologic immunology, shared with the audience what he dubbed one of the most moving episodes of his professional career: "As a basic scientist, I have been blessed to see my research findings translate into a powerful new strategy for cancer therapy. In 2006 I met a 24-year old melanoma patient named Sharon. More than a year earlier, her doctors told her that she had only a few months to live. She had received multiple prior therapies but her cancer continued to grow. As a last resort, she joined a clinical trial of a then experimental drug called anti-CTLA-4 therapy. Within three months, her tumors shrank and disappeared. When I met her a year later we hugged and cried after her doctor said she showed no evidence of recurrent cancer."
Rosemary and Peter Grant, awardees in the category of Ecology and Conservation Biology category, explained why their findings about evolution, which took decades of research observing Darwin's finches in the Galapagos, are important to conserve biodiversity: "Understanding how to maintain biodiversity in a fragile world experiencing environmental degradation on a global scale is one of the most critical challenges facing us today. One message from our research is that neither species nor environments are static entities, they are constantly changing, and we must find ways to keep them both capable of further, natural, change. Hence evolution is the link between ecology and conservation."
An old art form turned to a young science
Shafi Goldwasser, Silvio Micali, Adi Shamir and Ronald Rivest, prizewinners in the Information and Communication Technologies category, explained how their work has contributed to turn cryptography from an "old art form" to a "young science." In his opinion, "cryptography is one of the most pessimistic branches of science: It assumes the existence of extremely powerful adversaries, who can read all your messages, generate fake messages, or modify your keys and your random bits. However, it is also one of the most optimistic branches of science, showing how you can overcome such difficulties by using the power of mathematics and computer algorithms of the type we and our colleagues have developed."
Timothy Bresnahan, Ariel Pakes and Robert Porter, recognized in the Economy, Finance and Management category, represent the "empirical industrial organization, a field of microeconomics that studies imperfectly competitive markets; that is, almost all markets." Their research focuses on "the regulation of markets when competition is imperfect," and develops tools that "have enabled the analysis of the effects on consumer welfare, productivity, and profitability of phenomena such as mergers, deregulation, the design of auction and insurance markets, and much more," they said.
Composer Kaija Saariaho, awardee in Contemporary Music, has been using computers to compose music since 1982: "I've used technology as a microscope, to learn more about sound," she said. During her acceptance speech she vindicated "music's fundamental role for humanity," and recalled how many things science and music share, and "how often have fed off each other." But "where science relies on facts, music enters us without words, sometimes deeply and unexpectedly, like a smell (…) We forget ourselves and learn about others, and discover different ways of perceiving the world around us."
Tax bads not goods
William Nordhaus, winner in climate change was adamant about the need for a carbon tax: "People who are serious about slowing climate change are gradually coming to the view that putting a price on carbon emissions is the single most important step for slowing climate change. An easy way to think of this is the adage, 'Tax bads not goods.' Simple and correct."
Nubia Muñoz, winner in Development Cooperation, drew attention to the high fatality rates of cervical cancer in developing countries. "Perhaps because the very fact that this is cancer that eminently affects women in poor countries means it has not been given the importance it deserves," she denounced.
Muñoz also underscored that, despite the effectiveness of the vaccine against the agent causing this cancer, "each year, over half a million cases are diagnosed worldwide and 280,000 women die of the disease. Even more tragically, 85 percent of cases affect young women in developing countries, whose deaths leave a family unprotected and likely to slide deeper into poverty."