The Association for Internet Market Research (AIMC) has published the figures of access to the internet by children under the age of 14 in its General Media Study. The document states that the penetration in this age range is currently at 64.2 %.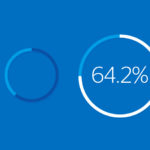 Therefore, there has been an increase of 6.8 points compared to 2010, when use by this population segment was at 57.4%. One of the main conclusions of the report is that use is increasing among children under the age of 9, remaining stable thereafter.
All in all, the Spanish population has gone from a 59.5% access to the internet in 2012 to 79.6% in 2017. The age range with the largest penetration is that between 14 and 19 years, where it reaches 94.9%.
Moreover, the increase in the use by people over the age of 55 is also surprising. In 2012, internet use among those between 55 and 64 years was 40.4%, compared to the current rate of 78.2%. Lastly, those above the age of 65 have gone from having a presence on the web from 19.2% in 2012 to 39.6% in 2017.