Onur Genç: "Thanks to our earnings, we can continue to make a balanced contribution to the well-being of society"
During the earnings presentation for the third quarter, BBVA's CEO, Onur Genç, explained that these results allow the bank to make a balanced contribution to social well-being by responding to the needs of all stakeholders: employees, suppliers, shareholders, customers and society as a whole. Looking ahead to 2024, he expects the bank's results to exceed this year's and therefore its contribution to society will be even greater.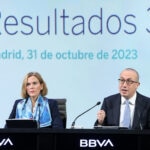 Where does BBVA allocate its earnings? Onur Genç explained that more than 50 percent is channeled into three key areas: "Employees, suppliers and the cost of credit". First and foremost, to compensate its employees: BBVA generates significant levels of employment, with upwards of 120,000 employees worldwide, more than 27,000 of them in Spain. Second, the bank has numerous overheads and general expenses, many of which relate to payments to suppliers; and last but not least, loan-loss provisions are needed to cover customer bad debts and write-offs of other assets.
Of the remaining income, i.e. what we might call "pre-tax profit, BBVA allocates more than a third to taxes (notably, corporate income tax exceeded €3.2 billion in the first nine months of the year), which is one of the main ways we contribute to social welfare. We then devote almost another third to remunerating our nearly 800,000 shareholders, many of whom are small individual savers." And lastly, BBVA invests the final third, or thereabouts, in future growth: "Future growth of the economy through credit to our customers," said Genç.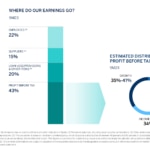 Distribution of BBVA's revenues as of 9M23. - BBVA
This social contribution could be even greater next year, as BBVA expects its results to be better than in 2023. While acknowledging that there are still uncertainties amid the current environment, he is confident that BBVA will perform better next year. And this is due, he explained, to structural factors.
In Mexico, segments such as retail credit, consumer loans and cards are extremely buoyant and the economy has huge potential. He reiterated that Mexico stands to benefit from nearshoring, its proximity to the United States and various other tailwinds: "In the second quarter of this year, and for the first time in decades, Mexico became the number one exporter to the United States, ahead of both China and Canada." And this has led to an increase in foreign investment in the country: "For the first time we are seeing some very big investment figures in the country."
Moving across to Spain, Onur Genç expects further growth from the country's economy. This, together with the European Central Bank's interest rate policy, "will continue to shore up margins and push Spain further ahead." The bank's CEO also remarked on the potential of the Turkish economy, despite the existing uncertainties, explaining that it stands to benefit from the decisions on economic policy to have been made since the May elections.
Notably, BBVA has upgraded its outlook for net interest income in Spain and Mexico. In the case of Spain, the bank expects NII growth of around 50 percent for 2023 as a whole, compared to a previous forecast of between 40 percent and 45 percent. Between January and September, this line on the income statement grew by 50.8 percent compared to the same period in 2022. For Mexico, NII is expected to see growth in the region of 20 percent. In the first nine months of the year, it was up 23.3 percent year-on-year, at constant exchange rates.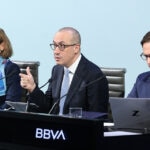 BBVA's earnings presentation for the third quarter 2023. - BBVA
"The extraordinary levy on banks is not good for Spain"
Turning his attention to the extraordinary tax on banks, BBVA's CEO said that it is an "unfair" tax and not a good thing for Spain. As he explained, the more capital a bank has, the more credit it can grant, which has a positive impact on the economy. "For every euro of capital, we can allocate between 10 and 20 euros more as we extend credit to the economy. If we reduce that capital, banks won't be able to grant as much credit and that means less investment in the economy." He also noted that the relentless regulatory changes are driving away investment.
He also recalled that since 2008, i.e. for the last 15 years or so, the profitability of Spanish banks has been below the cost of capital. "The first year that the industry manages to get past this mark, and there is immediate talk of windfall profits. It is unfair." In his opinion, the tax also makes Spanish banks less competitive, because they have to compete with smaller banks from other countries that operate in Spain yet do not pay this tax. "Spanish banks in Spain will cease to be competitive," he remarked.
BBVA to attract more customers in Italy in 2023
Onur Genç stressed that the bank's business in Italy "is performing much better than we thought." In his view, the experience in Italy is a prime example of BBVA's ability to acquire customers digitally, in an entirely new market. In its first year (2022), the bank attracted 160,000 customers. For 2023, BBVA has raised its customer acquisition projection to 200,000 customers. "Given our positive experiences so far, we are now weighing up the merits of taking it to other geographies. Within one or two years, we are likely to bring this model to one or perhaps two new geographies."
When asked about the Cenyt case, Onur Genç stated that "we welcome the decision by the Spanish High Court to rule that the judicial investigation cannot go beyond January 24".