The young designer turning to fashion in her search for an antidote to violence and poverty
Sometimes, with hard work and excitement, dreams do come true. Kelly Zapata, a young design student, is proof of this. Born in Dabeiba,  a small town in the Antioquia region of Colombia, Kelly has become a role model for her community and a source of pride for everyone who knows her. Not only has she managed to change her life, but with her mother's help, she is creating opportunities for others.
Cheerful, fun, full of life and with a strong desire to excel, Kelly Zapata comes from a rural family, where her father is a farmer and her mother is a seamstress. A source of inspiration for this 20 year old because "it isn't easy for people from the countryside to have access to education."
"My family is the engine that makes this car move. Throughout my life, they have been an example; and their words and actions move me," Kelly said. She is currently studying Fashion Design at Medellin University thanks to a scholarship from the Transforming Realities Program of BBVA Colombia and Bancamía, a Colombian bank that is part of the BBVA Microfinance Foundation.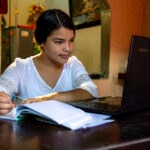 Believing in what you want
Kelly stresses the culture of hard work that her family has ingrained in her since childhood. "All of my inspiration comes from them. My parents taught me to believe in my dreams. They told me to fight for them, and with hard work, they come true."
In fact, Kelly exudes friendliness, but also energy and determination. "I want to make the family business grow. I work with my mom in her seamstress shop and we have created a project 'Making 15 year olds' dreams come true', with which we have managed to create jobs. We have been able to have an impact on the mothers who are the head of the household by training several women in the seamstress trade and they have been able to become entrepreneurs in this business." This initiative, which offers opportunities to people with limited resources, has been welcomed in her town.
But Kelly's dreams and desire to excel goes beyond the mountains of Antioquia: "In the long-term, I plan to have my own brand of clothing," she stated with conviction.
Area afflicted by violence
Her story is full of small victories over the various ups and downs she has encountered throughout her life. Her town, Dabeiba, "was severely affected by violence and natural disasters," she explained calmly without losing her smile. "Highly impacted by violence in the 2000s with many deaths and disappearances (nearly 200 actions related to the armed conflict took place there between 1990 and 2013). Rebuilding the social fabric has been, and continues to be, complicated, but in a way, this gives us confidence. Even in a forgotten corner of the country, it makes us believe in it."