The events aim to provide support and guidance for sectors and institutions impacted by both the European Green Deal and Carbon Border Regulation processes.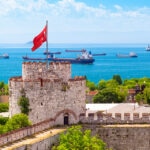 Garanti BBVA recently held its third 'Sustainable Future in Exports' meeting in Izmir, following meetings in Istanbul and Gaziantep. The bank initiated these activities as part of its commitment to sustainability and inclusive growth in order to help Turkey align with the European Green Deal and promote sustainable investments.
Garanti BBVA CEO Recep Baştuğ participated in a panel discussion entitled 'Preparing for the European Green Deal,' moderated by journalist Ilgaz Gürsoy, along with other climate change experts. They shared key insights on considerations for institutions and companies planning for the near future in this regard.
BBVA's Turkish unit supports exporters with a sustainability package that includes low-interest loans and access to the bank's extensive experience and network. The bank is also working with the Turkish Standards Institute to improve its clients' capacity to manage greenhouse gasses and reduce emissions.
The bank's CEO emphasized Garanti BBVA's commitment to "prepare for future challenges and contribute to the nation's success." He noted the importance of adapting production techniques in line with sustainability, especially in light of recent legislation on the Carbon Border Adjustment Mechanism. The executive stressed the importance of "ensuring that businesses in Izmir and the Aegean region are not affected by these regulations" and reiterated the bank's commitment to supporting stakeholders throughout the green transformation process.