The University of Alabama at Birmingham Department of Athletics (UAB), BBVA Compass and Birmingham Legion FC celebrated the stadium expansion of BBVA Compass Field Wednesday on the campus of UAB.
The BBVA Compass Field stadium expansion includes a state-of-the-art 4,000-seat grandstand, along with a permanent concessions stand, bathrooms and ticket office. An additional 40x20 video board will also be added to enhance the fan experience.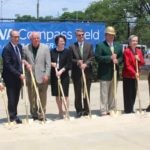 When complete, the expansion will give BBVA Compass Field a maximum capacity of nearly 6,000, and both UAB men's and women's soccer and the Legion FC will call BBVA Compass Field home. The expected date of completion is March 2019.
At Wednesday's celebration, UAB President Ray Watts, UAB Director of Athletics Mark Ingram, BBVA Compass President and CEO Onur Genç, BBVA Compass Birmingham Market CEO Andrea Smith and Legion FC President Jay Heaps commented on the excitement surrounding the project and the future of soccer in Birmingham.
UAB Director of Athletics Mark Ingram said, "These renovations are going to make our venue one of the best on-campus soccer stadiums in the country and we can't thank BBVA Compass and Legion FC enough for helping support this project. This partnership gives us 20 additional opportunities to have the city of Birmingham and surrounding area on our campus to witness first-hand the transformations that are taking place within UAB Athletics and the University as a whole."
Following the remarks, members from UAB, BBVA Compass and Legion FC participated in a ceremonial first dig to commemorate the partnership of expanding the new stadium. The three partners then hosted a youth clinic for Glen Iris Elementary to conclude the day.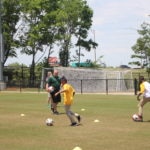 BBVA Compass Field originally debuted in December 2015. Named in honor of the BBVA Compass Foundation's $1.5 million gift to the university, the field saw its first competition in late October that same year with the UAB women's and men's teams playing their final home matches of the season on the pitch.
According to BBVA Compass President and CEO Onur Genç, "When we committed our gift to BBVA Compass Field, we had hoped the pitch would become a gathering place that showcased UAB's importance to Birmingham's culture and community. Today, that importance has been cemented with the groundbreaking for the Field's expansion, which will feature one of the world's most popular sports at both the collegiate and professional level. We are proud to have our name associated with this investment in the community, and proud of the opportunity it has provided Birmingham."
Birmingham's Legion FC is the city's new USL pro soccer franchise which was officially announced in 2017. Legion FC's inaugural season is slated for 2019.
"Birmingham Legion FC is excited to be a partner in the renovation of the BBVA Compass Field on UAB's campus," said Birmingham Legion FC President Jay Heaps. "We truly believe this will be a staple of our great community and a great venue to enjoy professional soccer. Together, the citizens of the Magic City, UAB, BBVA Compass and Legion FC will continue to build a better Birmingham. Hammer Down!"
Located south of University Boulevard just east of I-65, BBVA Compass Field is the first impression visitors have as they enter campus from I-65.