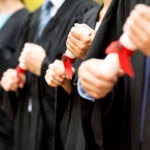 NYU's approach - while admirable - is not the norm for students in either undergraduate or graduate higher education. For most students, the college experience includes obtaining a degree and acquiring debt in the form of loans. But buyer beware - not all college loans are equal.
Federal Student Loans
Federal student loan programs are provided by the government through the Federal Direct Loan Program. These loans include Direct Subsidized Loans, Direct Unsubsidized Loans and Direct PLUS Loans.
Direct Subsidized Loans
These loans are based on the financial need of the applicant, and do not charge interest while the student is in school at least part-time, or during deferment or grace periods. These are not dependent on borrowers credit.
Direct Unsubsidized Loans
These loans are available to all students, regardless of financial need. The school determines the amount of loan given based on differing factors, like the student's total financial aid package. The loan is less advantageous than the direct subsidized loan in that interest accrues throughout the life of the loan, including while the student is in college. These are not dependent on borrowers credit.
Direct Plus Loans
These unsubsidized loans are for parents of students - undergraduate or graduate. These loans are based on the credit standing of the parents, and are available for college expenses after all other financial aid options have been explored. Like the unsubsidized loans, interest accrues for the life of the loan.
Private Student Loans
Private loans from banks and other lenders are available to students, but due to their terms and conditions, they may be less advantageous than federal loans. For example, private loans are dependent on credit and interest rates may be higher. Some federal student loans may be subsidized, meaning interest is paid by the government. This is not the case with private student loans. Additionally, repayment options are not as flexible as federal loans, with repayment for private loans in many cases beginning while the student is still attending school.
---
In many cases, debt is unavoidable for college students. To learn different strategies for minimizing it, read "7 Ways to Avoid Student Debt" on BBVA Compass Money Fit site.