Switzerland is the global center of private banking and a country many investors go to in search of diversification. But private banking is much more than that. It involves constant striving to understand the complexity of the financial markets in order to offer customers the best advice possible.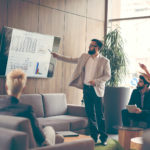 BBVA's Swiss franchise is the only bank within the BBVA Group that dedicates itself exclusively to private banking. For over 25 years it has been at the side of customers offering them investment proposals that best match their needs. BBVA Switzerland employees describe what private banking is for them and the commitment it demands.
The management of long-term assets requires in-depth knowledge of the customer, and the need to make them a personalized investment offer. Through efficient and transparent advice, customers should be able to make the best financial decisions. To achieve this, it is essential to know how to combine a personal and trusting relationship with the advantages offered by data analysis and technology.
Digital transformation has also reached private banking and BBVA Switzerland is a pioneer  in the use of technology to make life easier for its customers. The use of the  digital signature  and tools such as  'Click& Trade' are particularly innovative if you bear in mind the wide geographical dispersion of customers in this segment.
Who can be a private banking customer?  Anyone with financial assets who wants access to a specialized advice service.
Some banks set minimum amounts to open an account, but what must be taken into account is the value offer they provide. The services, rates and above all the digital platform made available are key when it comes to choosing a private bank.