BBVA in Switzerland: a benchmark among private banks in developing digital solutions
BBVA's presence in Switzerland dates back 25 years – a quarter century during which the bank has accompanied its clients, advising them on the management of their wealth and the diversification of their investments. It's the only bank in the BBVA Group devoted exclusively to private banking, offering a superb value proposition in international asset management.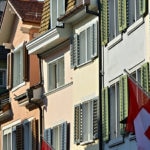 Switzerland is today the world's leading center for private banking in terms of the volume of assets under management; this is due fundamentally to the country's legal, political, economic and social stability. In a global context as complex as the current one, Switzerland presents a magnificent opportunity for our clients to benefit from the diversification of their assets.
BBVA's activity in Switzerland is characterized, above all, by providing excellent service to clients from a multitude of countries and by being a benchmark among private banks in developing digital solutions. In December 2017, BBVA became the first private bank in Switzerland to offer its clients the digital signature service, which facilitates the processing and signing of documents. This was one more step in our digital transformation, focused in this case on international wealth management; the digital signature service adds a high degree of efficiency when dealing with clients who are thousands of kilometers away.
BBVA seeks to lead the transformation of private banking in Switzerland. That's why we form an active part of the country's innovation ecosystem, alongside universities, startups and other organizations that are identifying disruptive innovations and developing new products.
In order to achieve this, we have a young, dynamic and extraordinarily specialized team, which has the clear goal of developing the best client experience in private banking. We combine an excellent relationship model with an extraordinary value proposal and the most innovative digital tools. Welcome to BBVA in Switzerland! Willkommen bei BBVA in der Schweiz!