WhatsApp has announced on its blog that it has begun introducing, in stages, live location sharing with contacts on iOS and Android. This function, which the messaging application company had been developing for some time, allows a users' contacts to see where he or she is, in real time. But will users like it or not?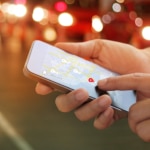 "The 'Share Live L0cation' feature lets you share your location for a specific period of time. You can choose to share your location in real time with the members of a chat group or with a contact on an individual chat," WhatsApp said in a statement.
With this new function, each user can share his or her current location with other contacts on a map, and for as long as he/she chooses.  The tool is an end-to-end encrypted feature, so the company cannot monitor each step the user takes.
How to use Share Live Location
To begin using this new feature, you just have to download the 2.17.379 version of Android (still in Beta) or install the latest update of WhatsApp for iOS. In any case, the feature will begin arriving slowly to all users, so some may have to wait several days for it.
Once the feature is installed, the user will simply have to activate localization and give permission to the application to access his/her location; this is done in the privacy settings of the telephone. When the tool is activated for the first time, a description will appear of how it works and the period of time during which  it will function. The user can decide between 15 minutes, an hour, or 18 minutes and can even add an optional comment.
Once this process is completed, when a WhatsApp user opens a chat with any contact or group, and clicks on the option to "Attach" ->"Location" -> they can then choose "Share Live Location."  The only thing that remains to be seen is what kind of reception this new application will have.