BBVA's new app-based service for remittances, Tuyyo, recently launched, focusing initially on the important U.S. to Mexico corridor, with an eye toward expanding service into other countries soon.
According to BBVA Research's Yearbook of Migration and Remittances, that's a good strategy as remittances, or the money sent by migrants to their home country, flows to and from many countries around the world, Mexico being just one, and not even the largest receiver among them.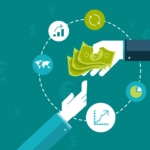 The report says, in 2016, ten countries received more than half of all remittances sent worldwide. Those countries in ranked order include India, China, the Philippines, Mexico, France, Pakistan, Nigeria, Egypt, Germany and Bangladesh. The countries sending nearly 50 percent of remittances worldwide in 2015 were:
-- The United States (23.2%)
-- Saudi Arabia (8.1%)
-- United Arab Emirates (5.6%)
-- United Kingdom (4.4%)
-- Canada (4.1%)
A recent study from the United Nations International Fund for Agricultural Development (IFAD) called Sending Money Home: Contributing to the SDGs, One Family at a Time further defines the impact remittances have on the families receiving them in countries around the world. The report indicates that about 200 million migrant workers support some 800 million family members globally, even though 85 percent of the $3 trillion migrant workers make annually stays in the host country. Further, the money being sent from developed countries averages less than 1 percent of their GDP.
On the other hand, the money is an important contributor to the economy of the countries and, the report says, an even more important lifeline to the individuals receiving it, where it is most often spent on sustaining day-to-day life, including food, healthcare and housing. The report goes on to say that countries on the receiving end have over 80 percent of the world's population.
In a release, Pedro de Vasconcelos, manager of IFAD's Financing Facility for Remittances and lead author of the report said:  "As populations in developed countries continue to age, the demand for migrant labour is expected to keep growing in the coming years. However, remittances can help the families of migrants build a more secure future, making migration for young people more of a choice than a necessity."
---
For more on BBVA's research on migration and remittances, click here.
BBVA's new app-based service for U.S. to Mexico remittances, Tuyyo, features a waived transfer fee for the first transaction, after which there is a flat fee of $5.49 plus the applicable foreign exchange rate. Rules apply.
For more on sending remittances from the U.S. to Mexico via Tuyyo, visit www.tuyyo.love and read more about the app-based service here.