While COVID-19 creates uncertainty, be certain to protect financial information against fraud
While the pandemic created by the novel COVID-19 develops and sends Americans down an unprecedented path, fraudsters are jumping at the chance to capitalize on that uncertainty.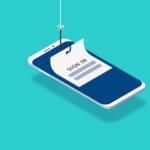 There are multiple ways to protect yourself from these scammers and minimize stressful situations, especially in regards to financial information.
BBVA USA Director of Investigations and Recovery Joe Rowe has helpful tips on how to both identify potentially fraudulent communications, avoid fraud activities, and protect your financial information and health.
Fake sites:
Rowe: Be mindful that fraudsters rely on a customer being unaware that they are becoming a victim. If you are at home and browsing the internet, please be cautious of fake websites. These are websites that are created to look legitimate.
For example, going to an unknown or new website that offers items that you may want to purchase, such as hand sanitizer or antibacterial wipes, could result in the compromise of your personal, customer information. Customers are asked to be cautious and only use known sites that are reputable.
Phone calls:
Rowe: Disaster relief calls asking people to support victims in need are examples of current ongoing scams. Fraudsters will ask for account information such as credit or debit card numbers or bank account numbers. Customers should never share their account information if approached this way.
Protecting the vulnerable:
Rowe: Fraudsters can especially take advantage of the elderly population through social engineering, which is the art of manipulating people so they give up confidential information.. With the impact to the economy by COVID-19, care givers, family members, or people offering to help the elderly customer with work around the house can take advantage of this population.
Suspicious texts:
Rowe: Texts advising that there is unusual activity on an account should raise concerns.  If you receive a text about your account that seems suspicious, please call our customer service team at 1-800-273-1057.
Contact information for BBVA USA customers is below. For more information, refer to BBVAUSA.com.
Report fraudulent activity on BBVA accounts
1-844-228-2872
(1-844-BBVAUSA)
Fraudulent (phishing) emails claiming to be from BBVA
fraud.us@bbva.com or call
1-800-273-1057
Lost / Stolen checks and ATM or debit cards, or suspicious debit or ATM transactions
1-844-228-2872
(1-844-BBVAUSA)
Lost / Stolen credit cards or suspicious credit card transactions
1-844-228-2872
(1-844-BBVAUSA)
Visit our Security Center on BBVA's website for more information about how to protect yourself from fraud at www.bbvausa.com