The NBA is back. So much so that the 30 franchises are now deeply immersed in the 2016/2017 preseason. Here at bbva.com we will go over the changes in the teams from the Eastern Conference and Western Conference, as well as their outlook for the season. Will the Cleveland Cavaliers repeat as champions this season? We'll have to wait for the answer to this and many other questions during this exciting season.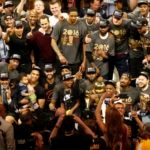 Atlantic Division
Philadelphia 76ers
Although injuries have once again plagued the 76ers (this time attacking Simmons' foot, the number one draft pick), Joel Embiid's long-awaited  debut and the arrival of Chacho Rodríguez and Dario Saric from Europe, together with veteran players Jerryd Bayless y Gerald Henderson should serve to turn around the team that has been adrift for years. They have most intimidating group of tall players in the league (Okafor, Embiid, Noel, Simmons and Saric) despite their lack of experience. Their goal should be to not finish last and for talented young players to get some flight time under their wings.  They will not make the playoffs.
Brooklyn Nets
The New Yorkers are back after a very bad season that ended with the third worst performance in the league. Only five players are returning from last year, including Brook Lopez and Bojan Bogdanovic. New players include Trevor Booker (Utah), Randy Foye (Oklahoma City), Luis Scola (Toronto), Greivis Vasquez (Milwaukee) and Jeremy Lin (Charlotte). Jarrett Jack (Atlanta), Wayne Ellington (Miami) and Thaddeus Young (Indiana) are leaving. Without a player to carry the team, the Brooklyn Nets will see some improvement, but not much. They won't make the playoffs.
New York Knicks
The legendary Phil Jackson's Knickerbockers last season brought more tears than cheers, so he did everything in his power to rebuild the team. The only key returning players are Carmelo Anthony and last season's successful rookie, Kristaps Pozingis. Arron Afflalo (Sacramento), José Manuel Calderón (LA Lakers), Cleanthony Early, Langston Galloway (New Orleans), Jerian Grant (Chicago), Robin Lopez (Chicago), Kevin Seraphin (Indiana), Derrick Williams (Miami) and Tony Wroten (Memphis) left to make room for renowned veterans like Derrick Rose (Chicago), Jakim Noah (Chicago) and Brandon Jennings (Orlando), Europeans like Mindaugas Kuzminskas (Unicaja Málaga) and Willy Hernangómez (Real Madrid) and fresh out of the classroom, Marshall Plumlee (Duke), among others. If Rose can keep injuries at bay, the Anthony-Porzingis-Rose trio could be a lethal offensive. They'll win more games and will make the playoffs.
Boston Celtics
Second in the Atlantic Division last year, the Green Team held onto the core of their team, losing only Evan Turner (Portland) and Jared Sullinger (Toronto). Al Horford (Atlanta), Gerald Green (Miami) and a strong group of rookies, including the athletic forward Jaylen Brown (California), are joining Brad Stevens' squad.  An All Star like Horford joining the solid group led by Isaiah Thomas, allows the Massachusetts team to dream of playing in the conference finals against LeBron's Cavaliers. They should win around 50 games and be one of the four best teams in the Eastern Conference.
Toronto Raptors
After a magnificent regular season last year, the Raptors kept most of their team, losing Bismack Biyombo (Orlando) and Luis Scola (Brooklyn). Jared Sullinger (Boston) and the promising rookie Jakob Poeltl (Unviersity of Utah) are joining the team. The DeRozan-Lowry combo will be the top scorers and Sullinger's and Valanciunas' height will be key. They'll have a successful season if they manage to perform throughout the regular season and step it up in the playoffs. They should be one of the four best teams in the Eastern Conference.
Central Division
Milwaukee Bucks
The 2015/2016 season was somewhat disappointing for a team with such budding young talent. This season, the majority of the team is staying on. Jerryd Bayless (Philadelphia), Greivis Vasquez (Brooklyn) and  OJ Mayo are leaving and Matthew Dellavedova (Cleveland), veterans Mirza Teletovic (Phoenix) and Jason Terry (Houston) and the intriguing rookie, Thon Maker, are joining the team. Giannis Antetokounmpo's contract was recently extended. Coach Jason Kidd will face the difficult task of pulling together the players' talent to form a strong team.  They should do better than last season and will fight to be in the playoffs.
Chicago Bulls
The team from the "Windy City" has almost completely transformed its roster. Distinguished players like Pau Gasol (San Antonio), Joakim Noah (New York) and Derrick Rose (Chicago) are leaving, among others, and renowned new players like Robin Lopez (New York), Rajon Rondo (Sacramento) and Dwayne Wade (Miami) are arriving, to name a few. After so much movement, the Bulls seem like they will be more balanced. We'll soon find out over the next few weeks. They should improve their record of 42 wins and aspire to be one of the four best teams in the Eastern Conference.
Detroit Pistons
Detroit's core team that led to their rise in the last season will remain, with the notable departure of Anthony Tolliver (Sacramento) and the arrival of new players, Jon Leuer (Phoenix), Boban Marjanovic (San Antonio), and Ish Smith (Philadelphia). They have outside shooting and ball movement problems but hope that Andre Drummond will have a great season like in 2015/16. They may make it to the playoffs.
Indiana Pacers
Larry Bird has really expanded his squad. With Paul George leading the team once again, important players like Jeff Teague (Atlanta), Thaddeus Young (Brooklyn) Aaron Brooks (Chicago), Al Jefferson (Charlotte) and Kevin Seraphin (New York) will be joining the team, taking the place of  George Hill (Utah), Jordan Hill (Minnesota), Solomon Hill (New Orleans), Ty Lawson (Sacramento) and Ian Mahinmi (Washington). It seems like the change is for the better and that the Pacers could improve their seventh place finish in the Eastern Conference from the 2015/16 season. They will definitely make the playoff and will not be far off from the four best teams in the Eastern Conference.
Cleveland Cavaliers
The NBA champs will dominate the conference once again this season, barring major surprises. Matthew Dellavedova (Milwaukee), Timofey Mozgov (LA Lakers), JR Smith and Maurice Williams are no longer on the team, but Chris Andersen (Memphis) and  Mike Dunleavy (Chicago) are two of the top new players. Whether or not JR Smith will return remains a mystery.   The team still needs a substitute point guard for Kyrie Irving, but has enough talent to resolve this and any other unexpected problems. They'll finish first in the Conference and are one of the top favorites to win the ring.
Southeast Division
Orlando Magic
The Florida team is almost starting with a clean slate. Dewayne Dedmon (San Antonio), Ersan Ilyasova (Oklahoma City), Brandon Jennings (New York), Shabazz Napier (Portland), Andrew Nicholson (Washington), Victor Oladipo (Oklahoma City) and Jason Smith (Washington) have left and Cliff Alexander (Portland), DJ Augustin (Denver), Bismack Biyombo (Toronto), Branden Dawson (LA Clippers), Jeff Green (LA Clippers), Serge Ibaka (Oklahoma City), Nick Johnson (Austin Spurs), Jodie Meeks (Detroit), Damjan Rudez (Minnesota) and CJ Wilcox (LA Clippers) are taking their place. With so much movement, it's clear that the team needs some time. In a few months we'll be able to see the impact of so much change but it seems like they are weaker in offense and stronger in defense. They won't make the playoffs.
Washington Wizards
Just like the Raptors, the Wizards are a team dominated by their point guards. John Wall and Bradley Beal will no longer have Alan Anderson (LA Clippers), Jared Dudley (Phoenix), Drew Gooden, JJ Hickson, NenÍ (Houston), Ramon Sessions (Charlotte) y Garrett Temple (Sacramento) as teammates and will have to make due with Trey Burke (Utah), Ian Mahinmi (Indiana), Andrew Nicholson (Orlando), Tomas Satoransky (FC Barcelona) and Jason Smith (Orlando), who just arrived. The team will be very fun to watch and may battle to be in the playoffs.
Charlotte Hornets
Marco Belinelli (Sacramento), Roy Hibbert (LA Lakers) and Ramon Sessions (Washington) are joining the team as veterans at different stages in their careers to bring more seniority to the talented Hornets. Troy Daniels (Memphis), Tyler Hansbrough, Al Jefferson (Indiana), Courtney Lee (New York) and  Jeremy Lin (Brooklyn) have left the franchise, so there has been some movement, perhaps from an excess of veterans whose best days are behind them.  They will probably be weaker this season and will not make the playoffs.
Atlanta Hawks
Among the ranks of the Georgia team, Al Horford (Boston) and Jeff Teague's (Indiana) departures have left a void that may prove too big to fill. Still, Atlanta fans should find some solace in Dwight Howard's (Houston) arrival, in what may be one of the last chances for the magnetic star to show that he's still got what it takes to be a dominant player. Although the signing of Jarret Jack (Brooklyn) and Malcom Delaney (Lokomotiv Kuban) should help the team offset, to a certain extent, the departure of its two stars, it will be hard for the Hawks not to miss the solid numbers and the focus that the two players brought to the team. Odds are that, even with Dennis Schroeder stepping in for Teague and Howard for Hofford, the change will be felt. They will still make it to the playoffs.
Miami Heat
News about Chris Bosh's health problems couldn't have come at a worse time for the South Beach team, still recovering from the unexpected departure of its franchise icon, Dwayne Wade. This season is gearing up to be a tough one for a roster already riddled by a long list of departures, including key players Luol Deng (LA Lakers), Gerald Green (Boston), Joe Johnson (Utah) and Amare Stoudemire (Hapoel Jerusalem). So, the question now is whether Spolestra will be able to  get his old guard to give their best and the team's summer signings - Luke Babbitt (New Orleans), Wayne Ellington (Brooklyn), James Johnson (Toronto), Willie Reed (Brooklyn), Beno Udrih, Dion Waiters (Oklahoma City) y Derrick Williams (New York) - to step up to the challenge. The evident drop in quality is likely to translate into a sizeable handful of victories less that could cause the Heat to miss the playoffs.