Alberto Charro has been named the executive chairman of BBVA Uruguay, replacing Antonio Alonso, who is retiring after 35 years with the BBVA Group. Alberto Charro will take up his new post on August 1.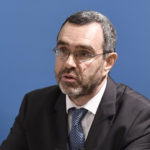 Alberto Charro has a doctorate (PhD) in economics and business administration and an MBA from Deusto University in Bilbao, Spain. He has had a long career with BBVA, heading businesses and franchises in different countries within the Group. He started off at BBVA in 1990 and in 1996 joined the London office in the area of Corporate Banking and in 2003 was appointed Country Manager at BBVA Brazil and later at BBVA Portugal from 2009 to 2015. Alberto Charro currently heads the Eastern Territory that covers the regions of Murcia, Valencia and the Balearic islands.
"My deepest thanks to Antonio Alonso for the 35 years he has been with the BBVA Group, the last five as the successful head of our Uruguay franchise", said Ignacio Lacasta, head of Business Monitoring for South America at BBVA, while also welcoming Alberto Charro on his appointment as chairman of BBVA Uruguay. "Alberto has successfully headed the Eastern Territory of BBVA Spain and now takes on the challenge of the chairmanship of BBVA Uruguay, where he will continue to drive the transformation process of the bank in the country".
With a presence in Uruguay since 2000, BBVA has established itself as one of the most important financial institutions in the country. With a 20-percent share of the credit market and a staff of almost 600 members, the bank is working to create opportunities for Uruguayan society, taking advantage of the backing of a global group such as BBVA. Its endeavors have had their reward and it is one of the most recommended banks by customers.