Andalusia heads the ranking of shortlisted projects for the Teacher Action Award 2016
The first stage of assessment of the Teacher Action Award, which is now in its 12th edition, has concluded with the announcement of its 100 regional finalists. This year Andalusia, with 21 initiatives, is the region with the most education projects going through to the next round.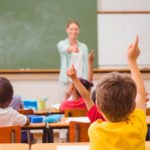 The Teacher Action Award 2016, organized by the FAD, the Spanish National Commission for Cooperation with UNESCO and BBVA, has completed the first stage of selection. Once again, this prestigious award has sent out a call to teachers who have run important educational projects for promoting social values in pre-primary, elementary, secondary, and special education schools. 438 projects implemented throughout the 2015-2016 school year were submitted in this edition, in three categories: Category A, for pre-primary and elementary students; Category B, for secondary students; and a Special Category for online projects.
Support for all autonomous regions
Andalusia is the autonomous region that has the most educational projects on the shortlist, with a total of 21. By province, the highest number of projects come from Seville, Malaga and Granada (4), followed by Cadiz and Almería (3), Huelva (2) and Cordoba (1)
The next region in the ranking of projects selected in this first stage is Madrid with 13 initiatives. It is followed by Castile-La Mancha, with 9, Castile-León, with 8 and Valencia with 7. Next on the list are the regions of Canary Islands, Galicia and Catalonia (6), Extremadura (5), Aragon (3), Asturias, Balearic Islands, Cantabria, La Rioja, Murcia, Navarre and the Basque Country (2), and Ceuta (1). You can see all their projects at this link.
Once again, the awards have enjoyed the collaboration and support of regional institutions and organizations in the education sector in all the regions, which is evidence of the interest these awards have always attracted from around the country. Over 3,300 educational projects have been submitted since the first edition in 2005.
The initial selection focused on projects that promote the transmission of values such as solidarity, tolerance and equality among the students. Points are given for the originality of the subject matter, activities and educational strategies, and the targets and methodologies used. Another aspect taken into consideration is the family's participation and direct involvement in the educational experience.