For nearly a decade, Karen Loya of BBVA Bancomer thought her toughest rival had beaten her. However, three years ago, she realized that she still had a chance to win. That's when she discovered who her true opponent was.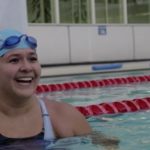 Karen was only 11 years old when her grandfather got tired of seeing her and her brother hanging out on the shore because they didn't have permission to go in the water. He signed them both up for swimming classes. By finding a solution to a problem, a lifelong passion was born.
She spent her childhood enduring endless training sessions. "It was a lot of sacrifice," she says. "We even trained on Saturdays and Sundays at six in the morning. That meant missing out on lots of things when you're 15 years old." But she reaped the reward of all that effort when she won a sports scholarship to TEC of Monterrey. Everything indicated that one day she would be an Olympic swimmer.
"The effort pay off
But all that training took its toll. "I specialize in the butterfly," she says. "I suffered through a shoulder injury for two years so they wouldn't take my scholarship away."
After she graduated, she finally got the operation she needed. But the recovery time of more than six months, plus the doctor's warning that her shoulder would never be the same, made it appear that injury—her biggest foe—had won.
Profile
Name: Karen Loya
Position: Sistemas Holding DG Engineering -BBVA Bancomer-
Function: Develop my career and as a person to make a contribution to banking services
Hobby: Swimming
Dream: To become the Head of the bank's Systems unit and be a mother
A reason to return
She never expected swimming to come back into her life. But when she joined BBVA Bancomer, she discovered the Interbanking Games and knew she wasn't done with the water.
"What made me swim again was the desire to participate in the Games," she says. Back in the pool, she realized that her real opponent was not her injury, but herself: "It's not just about winning, but going for my record, improving my times and knowing that I can push myself harder."
Maybe she thinks this way because she has run out of rivals in the water. In the three Games she has participated in, she has won a medal in all her events: 14 in each of the first two Games, and 15 in the last.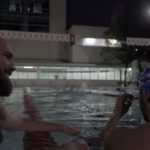 The team
However, her biggest motivation, apart from beating her own records, is "being on a team like ours. The environment is very cool. That's what keeps me going. If I swam alone, without representing anyone, it wouldn't be as much fun."
"What made me swim again was the desire to participate in Interbanking Games
That's what makes up for the sacrifice of training late in the day. "I'm lucky that where I practice closes at 23.00," she says. "I see my husband at lunchtime, because he also works at the bank, and then again before we go to sleep," she says with a laugh.
Her goal for this year's Games is to win 15 medals, of course. "And break any of my three records, if I can," she adds.
When asked if the effort, sacrifice and injury are worth it, she answers without hesitation: "Swimming has opened many doors for me."