BBVA Ambassadors: Natalia Romero, the girl with all the stars
Natalia Romero of BBVA Francés knows that behind every loan application is a family's dreams and the opportunity to make them come true.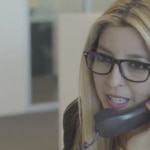 More than ten years ago, Natalia Romero worked at another bank. But every day, she passed by the BBVA Francés Training Center. "I thought, how nice that they care so much that they train their employees. Whenever I walked past the door I would say to myself, I'm going to work here. So I applied and they called me," she says with a smile.
Now, a decade later, she is one of the highest-rated employees in StarmeUp, the new employee-recognition app that Argentina rolled out in September: she has received almost 100 stars from her coworkers, most of them representing the ​​"we are one team" and the "customer comes first" Values. "It's a huge honor, especially because it comes from the people on my team."
StarmeUp allows employees to recognize the daily actions of coworkers who make our values ​​come alive. "This new recognition app allows many of us to learn about other coworkers. And it lets them know what your job is in the bank and they can value that publicly," she says.
It's a huge honor, especially because it comes from the people on my team"
Her recipe for success has two main ingredients. The first is empathy: "You see everything in a different light if you have an upbeat attitude and you can empathize with the clients. That is vital to achieving great results." The second ingredient is teamwork: "You're not the only one responsible for the results, it's a team effort. That's why it's so important to trust others and for everyone to be committed."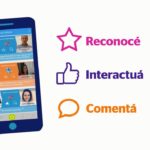 A career of continuous learning
Naty started at the call center. "It's one way to enter the organization, and a place where you can learn a lot while you look for your place in the bank. I worked there for two years, until I applied for a job in Risk, where I work today." She says the experience was amazing and enabled her to learn about the bank and the clients.
Perhaps that period of direct contact with clients was the opportunity to develop what she considers the key to her role and that of everyone at BBVA: "Empathy, that is, putting yourself in other people's shoes so you can understand what their needs are and satisfy them the best way possible."
Know the customer
Naty says that "behind every mortgage application is a dream that we have the opportunity to make come true." And you have to know how to put yourself in the customer's place to understand what it means to them. "You learn a lot about the client when you read all the information in their file. You can see what their work situation is, their income, the characteristics of their family. I imagine how I can help them from where I'm standing. I try to see how they can acquire that home they want so much."
Behind every mortgage application is a dream that we have the opportunity to make come true"
She says you don't have to be in direct contact with the end customers to keep them in mind. Or to receive their gratitude. "Personally, I'm satisfied when members of the sales team, who are in contact with them, thank me for helping. They are happy for the client and they let me know."
Profile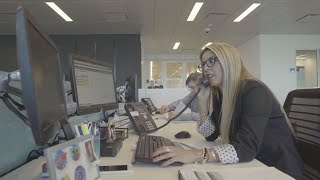 Name: Naty Romero
Position: Risk analyst -BBVA Francés-
Function:Help create opportunities
Hobby:Dancing
Dream:Form a family
The voice of BBVA Francés
Although many people don't know it, Naty has been the voice of BBVA Francés for a long time, as she has recorded three voice-overs used to welcome customers who called the bank. Anyone who meets her would say her voice stands out and that it conveys warmth.
And her co-workers point that out: "She is an excellent colleague, who is always willing to help and has the best voice in the bank."
Now Naty has taken a new role in the Risk unit and she receives calls from the branch sales teams from all over the country. Now they don't just compliment her warm and mellifluous voice, they also say, "You're the girl with all the stars."