BBVA Ambassadors: Rick Falcón, finding teammates in unexpected places
A major tragedy was the unlikely source of an important friendship. Rick Falcón, BBVA Compass employee never thought he'd end up in Florida.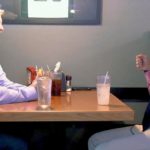 "I was in Puerto Rico, working at Atento, the call center for the bank," Rick said. "I'd been there for almost 3 years. I used to be a supervisor and trainer for customer service and online banking, so that was my speciality. I would do trainings for everything. Basically I helped out with pretty much everything. Everything was good."
Everything changed, though, when Hurricane Maria devastated the island in 2017. Looking for a new opportunity and a way to help his family, he reached out to local administration to see if BBVA had any openings in the states. And that's what eventually led him to a fateful phone call with Chuck Sprague, a District Retail Executive in Central Florida.
"I was told about a young man who was coming to the U.S.: bright, full of energy," Chuck said. "I asked to be put in touch with him, but I couldn't make any promises."
"Making it here without my family has been challenging"
Less than two days later, Rick called Chuck and explained his situation: "We're without power. We have a generator in our little compound with four families on the same generator. The call center is gone, and I'm coming to the U.S., and I want to find a job."
After talking on the phone, Chuck was inspired by Rick's motivation, so he offered to meet Rick in Tampa, Florida, where his flight was arriving, and drive him to Gainesville, where Chuck worked and where Rick was hoping to find an opportunity with BBVA. The drive takes about two hours, and it was a chance for an informal interview.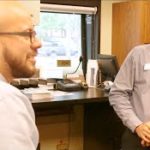 "My coworkers here have been wonderful... I know they would give me a hand"
"At only 27 or 28 years old, he did something that I don't know I could do," Chuck said. They spent the drive talking about Rick's experience, his time in Puerto Rico working for Atento, and Rick's attraction to the kind of values that drive BBVA: being one team, thinking big, and putting the customer first.
A couple of days after arriving, Rick went through a formal interview process, and not long after that, he was hired as a Sales & Service Advisor. He started working for BBVA less than a month after arriving in the States.
"Making it here without my family has been challenging, but Chuck has helped at every step," Rick said. "I know that if something happened, I could reach out to him, and he wouldn't hesitate to give me a hand."
With all the changes he's experienced, Rick said he's definitely valued the sense of teamwork and camaraderie he's found. "My coworkers here have been wonderful," he said. "The branch is a lot smaller than the call center, and I've had a chance to connect with them and build trust with them, and I know they would give me a hand as well."
Chuck also emphasized feeling like part of a team with Rick. "When I talked to him, he had no trepidation," Chuck said. "It was his confidence—he was so brave to come here and take this chance. I thought, that's somebody I want to work side by side with. That's somebody that will make our team better because of his willingness to work to get to his goal. I'm thinking that we are one team, and I want him on my team."