BBVA presents employees a new plan for productivity and work-life balance
'Work better. Enjoy Life.' This is the slogan BBVA used to present employees in Spain the new measures for productivity and work-life balance with which the bank aims to foster change in the way work is done. The initiatives are set to promote a more flexible and balanced work environment, that guarantee equal opportunities and the professional development of all employees based on goals and not presenteeism.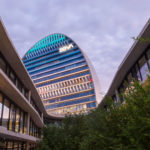 In a presentation to employees at Madrid's Ciudad BBVA, the Global Head of Talent & Culture Carlos Casas announced a new plan to foster productivity and enhance work-life balance. "We want to reinforce key principles in our organization:  working toward goals, being more productive and efficient, and offering employees greater flexibility and balance in their professional and personal lives."
The plan includes several initiatives that can be put into two main groups. On the one hand, best practices to ensure efficient use of time. And on the other, "bold, more visible measures" which include digital disconnection and closing the bank's corporate headquarters in Spain starting at 7:00PM. Services provided in corporate buildings (restaurants, transportation, gym, etc.) will adapt to this new schedule.  In order to improve employee mobility and make it more sustainable, BBVA will increase the number of shuttles from Ciudad BBVA to the center of Madrid, promote car sharing and create parking areas for environmentally friendly means of transportation like electric scooters.
This new plan for productivity and work-life balance includes keeping track of employee hours in Spain.  At the end of September, BBVA became the first Spanish financial institution to reach an agreement with union representatives on tracking employee hours that goes one step further by recognizing the right to digital disconnection. Employees will  not be required to be connected after their work day is over or when on vacation. Furthermore, no communications will be sent between 7:00 PM and 8:00 AM, except for justified exceptions.
New ways of working
The Global Head of Talent & Culture emphasized the importance of bringing about change based on efficiency and productivity, which breaks away from the culture of presenteeism and makes it possible to organize work based on objectives and priorities.
Excessive meetings is one of the biggest impediments to productivity. That's why this plan aims to manage them effectively, adding rules like: limiting meetings to 45 minutes, avoiding the use of unnecessary presentations, promoting the use of video conferences - physical presence is not the important part of a meeting - and sharing the meeting objectives in advance.
The technology and agile methodologies that BBVA started to adopt in 2014 also make it easier for teams to be more goal-oriented, and for the objectives to be clearer, thus fostering  flexibility.
This plan for productivity and work-life balance will be gradually implemented everywhere BBVA has a presence, adapting it to each county's needs and characteristics.
Tracking employee hours in Spain
In order to implement an hour tracking system for employees, BBVA built an app where all employees must register the time they start and finish working. The app will be operational starting November 18th. This makes BBVA the first bank to apply the Royal Decree 8/2019 on the tracking of employee hours, approved last March in Spain.