BBVA benefits 11 million people with programs promoting knowledge, education, and culture over the past three years
According to BBVA, knowledge, education, and culture are fundamental drivers for the creation and development of opportunities for individuals. In 2018 alone, the bank invested €75.5 million in these areas, helping 3.8 million people.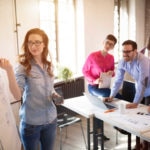 Through its diverse initiatives BBVA contributes to the domains of knowledge, education, and culture, actively promoting these elements in order to foster development in the communities it serves.  As part of its 2016-2018 Community Investment Plan, BBVA has invested a total of €210 million, reaching 11 million people in its communities. Its efforts in championing knowledge, education, and culture continue in full swing in 2019.

Knowledge
BBVA contributes to the spread of knowledge through the BBVA Foundation, BBVA Research, and OpenMind.
The BBVA Foundation
This organization seeks to push the boundaries of knowledge, promoting research, artistic and cultural creativity, and interdisciplinary collaboration in order to confront the challenges facing society today. In 2018, the Foundation assisted 1.6 million people through the following activities.
Research Support:
Grants for scientific research teams in biomedicine, ecology, conservation biology, big data, economy and the digital society, and digital humanities: the Foundation has supported 113 teams since 2014 with these grants that last up to three years and have totaled €10.7 million in funding.
A Knowledge Hub:
The BBVA Foundation promotes knowledge through its annual conference series. These series cover diverse topics under titles such as The Science of the Cosmos, the Science in the Cosmos, which addresses cutting-edge research in Astrophysics; The History of Ideas with Spain's Royal Academy of History; the Particle Physics Series in collaboration with CERN and the Journal of the Economic Association (JEEA) - BBVA Foundation Conference. The Foundation also organizes scientific forums of excellence with the "Nicolás Cabrera" International Summer School (Universidad Autónoma de Madrid).
Recognition
The BBVA Foundation grants different awards that acknowledges talent, innovation, and activities defending the conservation of nature:
Working in Networks
The BBVA Foundation supports research within the Comprehensive Program of Cancer Immunotherapy & Immunology (CAIMI) at the Vall D'Hebron Hospital in Barcelona. Additionally, it collaborates with PortalCLÍNIC, a trusted website providing health-related information in collaboration with more than 200 specialists from Barcelona's Hospital Clínic, and in various research projects with the Institute for Research in Biomedicine (IRB) and the Economic Research Institute of Valencia (IVIE).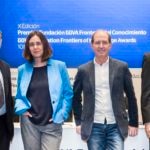 The BBVA Foundation Frontiers of Knowledge Awards are a set of international awards that recognize contributions in areas of scientific research and cultural creation.
BBVA OpenMind
OpenMind is an online knowledge sharing community that works under the premise that broad-ranging, high-quality knowledge helps people make better individual and collective decisions. Its goal is to contribute – openly and free-of-charge – to the creation and dissemination of content about science, technology, humanity, and the economy.
In addition to its knowledge-sharing platform, each year OpenMind publishes a book that addresses topical themes. This year it examines where the major scientific and technological advances of the past decade are leading us and what their impact on human living conditions are. 'Towards a New Enlightenment? A Transcendent Decade' is available at no cost in various formats in both English and Spanish.
Education
Access to education, the quality of education, and the development of key skills for the twenty-first century are sources of opportunities. This is why supporting education in the communities it serves plays such a fundamental role in BBVA's social investment activities. In 2018, close to 280,000 people benefited from different educational initiatives across three different areas of activity.
Access:
This area deals with economic assistance, which facilitates access to education for children, young people, and adults alike. The following are among some of the most notable programs:
Quality Education 
Social educational innovation and talent among teachers are two pillars of quality education, which BBVA supports through the following initiatives:
Teaching Activities Program (Spain): a collaborative educational program between Fad and BBVA, aimed at supporting Spanish teachers who are working to make the classroom a more creative place, innovative, and producing a social educational impact. The Master Calls Action Award is granted under the framework of this program and is used to recognize and single out educational programs that have a focus on teaching values.
The Teachers Academy Foundation (Turkey): created by Garanti BBVA in 2008, it is the first foundation in the country to focus on the personal and professional development of teachers and people working in the field of education.
Teach for America (United States): BBVA collaborates with this organization, whose mission is to use leadership to eliminate inequality in education.
National Teaching Award (Colombia): an award that recognizes the work of teachers on behalf of infant development.
Papagayo Program (Venezuela): a pedagogical program kicked off in 1998, it fosters value-based education through creative reading and writing.
Charter School Partnerships (United States): The BBVA Foundation invests in non-profit "Charter Schools" that work to improve the academic results of students from low-income communities.
Program to give public schools a boost in the United States: BBVA collaborates with KIPP Houston Public Schools to support the education of at-risk students and foster opportunities.
Giner de los Ríos Award (BBVA Foundation): this award acknowledges the innovative work of teachers who are seeking to strengthen skills and attitudes that are needed to actively participate in today's society and economy.
Twenty-first century competencies 
BBVA supports children and young people to develop competencies that are in demand in the twenty-first century through inspiring audiovisual content and free, universal learning methodologies. Some of the initiatives worth mentioning include:
Code the Future (Turkey): an educational program designed to create a positive impact on local communities and educate children so they can develop for the digital era.
The Connected Program (Spain): a platform that seeks to raise awareness about the importance of the correct use of technologies by offering activities intended for a wide range of ages, from the youngest children to families and teachers. This initiative is led by FAD in collaboration with Google and BBVA.
Others: BBVA contributes to education by participating in alliances with institutions involved in the academic field, working in partnership to address the educational challenges found in the different countries where BBVA operates.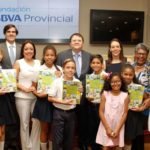 BBVA supports social educational innovation and talent among teachers through several initiatives, like Papagayo Program (Venezuela).
Culture 
The BBVA Foundation promotes cultural creativity as a means of creating knowledge. In 2018, more than 1.1 million people benefited from cultural initiatives that encompass a range of activities from project funding through the The Leonardo Grants for researchers and cultural contributors and the Multiverse Scholarships for Video Art Creation, to various collaborations with museums such as the Prado, the Guggenheim in Bilbao and the Joan Miró Foundation. The BBVA Foundation has also worked on different projects with Spain's Royal Theater and the Gran Teatre del Liceu and other organizations like Bilbao's Friends of the Opera Association, Madrid's regional orchestra and choir, the Madrid symphonic orchestra, the Reina Sofía School for Higher Music Education, which provides training for performers; and Spain's National Youth Orchestra. The bank has also collaborated with the Spanish Association of Symphonic Orchestras (AEOS) in granting a Composition Award.
Internationally, BBVA has supported cultural initiatives in its local markets with an investment totaling €5.4 million in 2018. Included among the notable local initiatives are:
United States: BBVA strives to ensure that through it investment in culture, people from low income and humble origins have access to art and that their communities benefit from new spaces and opportunities.
Mexico: the bank has various active projects such as Program Bi, a platform that fosters collaboration and exchanges related to the production and delivery of initiatives focused on art and culture. Also worth mentioning is Bancomer-CCD Immersion Laboratory, the first comprehensive residence program in the country that covers the creation, research, training, and dissemination of the immersive arts. Finally, the Making a Short contest cultivates creation in the field of cinema and recognizes the talent of young filmmakers.