BBVA Compass, Houston Bike Share kickoff free rides program at opening of new Bcycle station
On Jan. 23 BBVA Compass, Houston Mayor Sylvester Turner, Houston Downtown Management District and Visit Houston joined Houston Bike Share to cut the ribbon at its newest Bcycle station in Downtown Houston. The opening of the "Crawford Island" station was celebrated in tandem with the launch of Houston Bike Share's "BBVA Compass Free Rides" program, an initiative offering free Bcycle rides in Houston from Jan. 27 through Feb. 5.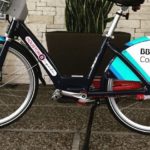 The free rides program, funded by BBVA Compass, aims to tackle traffic congestion and score mobility points among Houston residents and visitors during the days counting up to the big game. The kickoff of the "BBVA Compass Free Rides" program offers the City of Houston and its guests access to an economical and convenient mode of transportation for the big game and its affiliated events.
"We need a paradigm shift in transportation away from single-occupancy motor vehicles," said Houston Mayor Sylvester Turner at the "Crawford Island" ribbon cutting ceremony. "Making cycling more accessible by building a strong bike sharing system is a critical component of that change."
We need a paradigm shift in transportation away from single-occupancy motor vehicle
As part of the free rides program, riders undocking from any Houston Bcycle station, including the new "Crawford Island" station, can reserve a free 60-minute bike ride with a valid credit or debit card along with a phone number or email address. If riders need more time, they can simply dock at any local Bcycle station within an hour to reset the clock and avoid fees.
Riders in the Downtown Houston vicinity are able to check-in at a valet station near the Downtown Houston's Embassy Suites Hotel if Bcycle docking stations are full. The Bcycle mobile app, available on App Store and Google Play, allows riders to locate nearby docking stations, view available number of bikes and map their routes.
In a live interview on Jan.25 with Great Day Houston, Houston KHOU 11's morning news show, BBVA Compass Houston CEO Mark Montgomery expressed the bank's effort to brighten the big game experience for the residents and visitors of Houston, referencing the bank's vision of mobility and convenience in multiple platforms.
"We're all about mobility and giving back to the community," said Montgomery. "Every day our employees are thinking about how to create brighter futures for people. For us to have the opportunity to be involved and give free bike rides during the Super Bowl is fantastic. It's a way to give back and improve the community, which is what we're all about."
In an effort to promote healthy living, BBVA Compass and Houston Bike Share will extend the "BBVA Compass Free Rides" program with "Bike Share Free Fridays" from Feb.10 through March 31. Riders are invited to share their free ride experience via social media with locally trending hashtag, #WeAreMobile.