BBVA Compass Mobile Banking App designed for greater financial freedom
BBVA Compass recently reported a 30 percent increase year-over-year in mobile active customers.*
According to a recent study from Citigroup, it's a trend the bank should expect to see continue, as customers increasingly use mobile banking apps over most others. BBVA Compass Head of Business Development Pepe Olalla agrees but also says increased adoption of the mobile app among BBVA Compass customers can also be attributed to a digital strategy which incorporates design and customer feedback to deliver a solution that guides customers on their financial journey.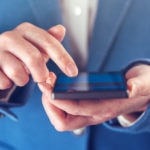 "Increasing numbers of bank customers using our mobile app is about far more than it simply being a popular app to open," Olalla says. "Over the past year, we've enhanced the app's functionality so that customers are able to use it to make financial decisions and even open new financial products. The app is not just about checking your account balance. It's the bank in your pocket."
Olalla says that the mobile team is continually looking to optimize the app, and new mobile releases happen monthly, and sometimes even more frequently. This has been key to keeping the app fresh, updated and rated among the highest among other banking apps by users in mobile banking in the app store.
"We can't overemphasize our mobile app, and its all-encompassing functionality, enough," he said. "Our branch bankers encourage customers to use the app because it allows customers to self-serve common transactions, which frees them up to have high-value conversations. In fact, our branch bankers have served up more than 138,000 demos of the app over the past 6 months alone, which indicates the value they see in it."
Some of the functionality Olalla points toward that has been added over the past year and significantly enhanced the app's functionality includes:
Green Button

Clients can use the so-called green button on the homepage of the Mobile Banking App to apply for new banking products, including checking and savings accounts, money markets and Express Personal Loans.
HELOC, Personal Line of Credit or Business Line of Credit Advances

Clients with a Personal Line of Credit (PLOC), Home Equity Line of Credit (HELOC), or Business Line of Credit (BLOC) can perform advances via Mobile Banking.
Display Outside Accounts

Clients that have linked their external financial accounts via Online Banking can view these accounts in Mobile Banking. This means that customers can see their full financial picture like their 401K or favorite retailer credit card in the BBVA Compass app.
International Transfers

International Transfers provides clients with the ability to transfer funds to designated recipients in Mexico and Other select countries. Clients can conveniently enroll, add/delete payees, and originate or cancel these transactions through Mobile Banking.
Activate a Credit or Debit Card

Clients can activate the card(s) directly from the Mobile App without having to call first.
Disable or  Block a Credit or Debit Card

If your card is lost or stolen, or fraudulent charges are being made on it, clients can use the app to block or disable the card.
Request Replacement Debit or Credit Cards

Over time, cards can become worn and the need for a replacement is clear. Client can now order a new credit or debit card through the mobile app.
Consumer Credit Card Balance Transfers

Clients with a BBVA Compass Consumer Credit Card can request a credit card balance transfer via mobile banking. This means BBVA Compass will pay another creditor the balance owed by the client and it will be transferred to their BBVA Compass credit card account.
Consumer Debit or Credit Card Transaction Alerts

With so much concern these days about identity theft and fraud, closely monitoring your financial accounts is the best defense in detecting unusual account activity faster. With Alerts from BBVA Compass, it is easier than ever to do.
Ability to Send Alerts via Push Notifications

When account alerts are activated, clients can enable them to be sent via push notifications so they are immediately aware of important changes to their accounts.
Functionality Search Tool

Clients can use this tool to navigate directly to functionality or information within Mobile Banking.
Pre-filled Direct Deposit Form

Clients with a checking, savings, or money market account have the ability to save, print, text or email a prefilled Direct Deposit form via Mobile Banking.
The BBVA Compass Mobile Banking app has been named Best Mobile App by Money® magazine in 2015 and awarded Javelin Strategy & Research's Mobile Banking Leader in Functionality Award three times in as many years. It was also named in November 2017 as a leader for its ease of use by Javelin.
---
*An active user is defined as a customer who signs in to the mobile banking app at least once per month for three consecutive months.