BBVA is executing its transformation focusing on the customer and technology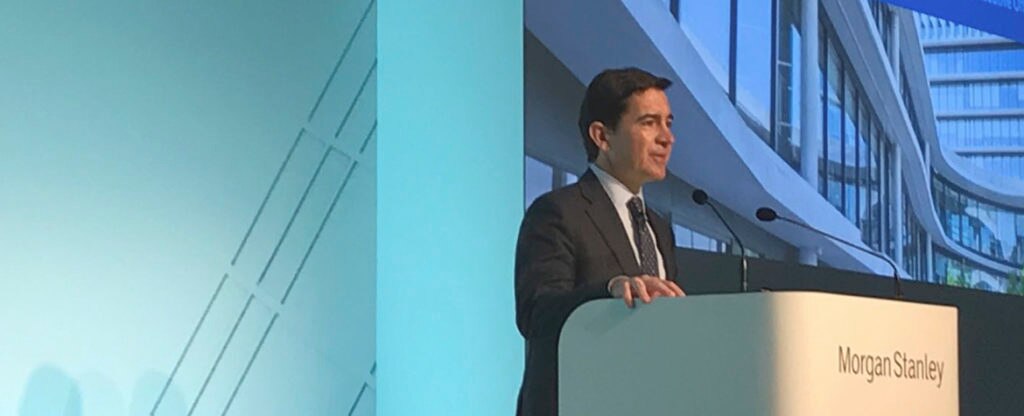 Today, BBVA CEO Carlos Torres Vila, speaking to international investors, emphasized that BBVA is well positioned to capitalize on the opportunities afforded by the current environment, thanks to its clear and well defined strategic path, a transformation plan focused on the customer and based on the use of data and technology and the strengths of its business model.
His presentation during the Morgan Stanley European Financials Conference, which took place in London, was divided into two parts. In the first one, he went over some of the progress made by BBVA on its transformation plan, which builds on technology to benefit customers, and which have helped the Group underpin its distinctive position to capitalize on the opportunities that lie ahead. Then, the CEO spoke about BBVA's strengths, both at a global level and on a business area scale.
Carlos Torres Vila began his speech putting the Groups strategy into context, marked by a complex environment. In this scenario, the CEO indicated that BBVA has a clear strategic path, defined through its purpose:  To bring the age of opportunity to everyone substantiated into its six strategic priorities. All this constitutes a value proposal that seeks to have an actual impact both on individuals and companies.
Building on these pillars, Carlos Torres Vila emphasized that BBVA is rolling out its customer-focused strategy. To achieve this, BBVA is relying on technology to drive revenues through customer experience, digital sales, and the advisory function (above the glass) and generating cost savings through changes in the distribution model, productivity improvements and the implementation of new technology platforms and agile methodologies (below the glass).
BBVA is therefore focusing on generating unique products and functionalities to deliver the services that customers demand. That is what has been defined as the "revolution of small things". A revolution that, in 2016, has materialized through a series of deliverables that will continue being rolled out on a quarterly basis. All this, together with a clear and transparent offer aimed at helping customers understand their finances better, is driving satisfaction and engagement with the company.
Also, BBVA's CEO emphasized the growth both in the number of customers and digital sales generated through a broader offer of this type of products. Digital customers grew 20% in the last year, reaching 18.4 million in December 2016 (of which 12.4 are customers that use smartphones as their primary channel). Digital sales, on the other hand, represent 17% of total sales in Spain, while in the US they account for almost 20% and in Turkey for more than 26%. In any case, Carlos Torres Vila noted that there is still room for growth. Also, he made reference to the advisory role as key lever to offering a customized and enriched value proposal.
Carlos Torres Vila also explained the keys that will drive the BBVA transformation process through the generation of efficiencies. In this sense, he underscored the role that branches and managers will play in BBVA's transformation and the need to develop a new operating model that will help increase productivity and improve efficiency. The CEO also placed a particular emphasis on the impact that the implementation of Cloud technologies will have in terms of driving down unit costs per transaction.
He also noted that the opportunity lies not only within the institution's own customer base - where there is still room for improvement - but also on the technology-enabled scalability of the model in other markets with potential for exponential growth.
The final part of his speech focused on BBVA's strengths: a well-diversified footprint, a prudent risk profile and a sound capital position. These three factors have been key to underpin the company's profit resilience and income generating capabilities during the crisis, above the sector's average.
BBVA's CEO also spoke about each one of the group's business areas and their outlook for 2017. Thus, regarding the Banking Activity in Spain, he noted cost reduction as the main catalyst for results in 2017, with the materialization of the synergies derived from Catalunya Banc's integration. Regarding the Real Estate activity in Spain, he emphasized the acceleration in the sale of property portfolios in the past three months. In the U.S., the franchise's priority will be to enhance profitability by focusing on the most profitable lending segments and the improvement in branch network productivity. Also, the area is well positioned to benefit from interest rate hikes. Regarding Mexico, he highlighted BBVA Bancomer's leadership and resilience. Loans and results should grow at high rates in this market. In respect to Turkey, he emphasized the area's resilience, where loans are expected to grow at double-digit. In South America, macro recovery is expected to support loan growth and prevent deterioration in asset quality.
To conclude, BBVA's CEO made reference to the Group's Solid capital position, laid bare by the company's high regulatory ratios, and proven ability to generate capital, and the good quality thereof.
Finally, Carlos Torres Vila reiterated that BBVA is well positioned in the current environment to make the most of market opportunities.