BBVA Frontiers of Knowledge awards recognize Arvo Pärt's new musical grammar
BBVA Foundation recognizes the Estonian composer with the Frontiers of Knowledge Award in the Category of Music and Opera for cultivating an original language, which has led to the creation of a unique sound world. In its citation, the jury underscores that Arvo Pärt's creations are "a fresh approach to spiritual music, especially in his choral oeuvre, that reduces the musical material to the essence."
Following a long period of self-searching, Estonian Arvo Pärt emerged in the mid-1970s with a musical language uniquely his own, which he has gone on developing to this day Deceptively simple, it is in fact underpinned by a high degree of technical complexity, consisting of interlinked musical lines that dispense with all superfluous elements. His work marks a fresh approach to spiritual music, especially choral, where voice is primordial, particularly the word, drawn in most cases from liturgical texts or prayers
Arvo Pärt was born in 1935 in Paide, Estonia, just four years before the country's incorporation into the Soviet Union. He studied piano, flute, oboe and percussion before the age of twenty. In 1954 he began higher studies in composition at the Tallinn conservatoire, but had to break off his training for compulsory military service. By the time of his graduation year, he had attained a formal mastery evident in his 'Symphony No.1' (1963), written while he was working as a sound engineer for a state radio station. Some of the output of his student years still forms part of his official catalog, including orchestral pieces like 'Nekrolog' (1960) or 'Perpetuum mobile' (1963): The music he went on to create in the late 1960s stands out for its distinctive use of the collage technique, darker and more dramatic, with a clear indebtedness to the Baroque tradition.
'Credo', from 1968, marked a turning point in his life and work. The Soviet regime saw a threat in both the work and its composer for their innovating spirit and ability to convey a spiritual truth that connected with listeners. Pärt responded by embarking on a return to the origins, studying Christian vocal music, Gregorian chant, the Notre Dame School and Renaissance polyphony.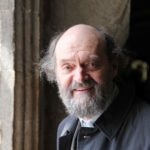 Arvo Pärt, BBVA Foundation Frontiers of Knowledge Award in Music and Opera - Universal Edition/Eric Marinitsch
A unique musical world
The two worlds that Pärt had been exploring found their perfect outlet in a new technique called tintinnabuli. In the forty years since then, Pärt has continued to develop the technique which would underpin all his subsequent production. In 1977 he wrote some of his most celebrated works using this language: 'Cantus in Memoriam Benjamin Britten', 'Fratres', 'Summa' and 'Tabula Rasa'. The premiere of 'Tabula Rasa' was another event, this time in Tallinn, which extended his fame beyond national borders.
During his exile in Germany he composed major orchestral works such as 'Passio' (1982), 'Stabat Mater' (1985), 'Te Deum' (1985), 'Miserere' (1989/1992), 'Como cierva sedienta' (1998/2002) and 'In principio' (2003). His works began appearing in the programs of top international festivals, orchestras and ensembles, and in radio and TV broadcasts. He moved back to Estonia in 2010, and has been living there ever since. Upon his return he founded the Arvo Pärt Centre, to house and maintain the composer's impressive personal archive, while serving as a meeting place for musicians, researchers and music lovers everywhere.
Arvo Pärt's music has found favor with the most varied publics, is heard constantly at concert venues around the world and features on the soundtrack of numerous films, making him one of today's most widely performed contemporary composers.