BBVA helps almost 500,000 young people make their way into the job market
Between 2016 and 2022, BBVA will reach a milestone of supporting almost half a million young people gain access to the job market, primarily though its worldwide entrepreneur programs. The bank, together with 20 other large global companies at the World Economic Forum in Davos, launched Global Alliance for YOUth, an initiative representing a collective effort to provide young people with the knowledge and skills they need for the jobs that society calls for. To this end, the project aims to help six million young people improve their skills so they can take part in the new working environments.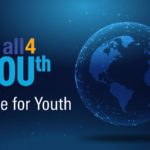 To achieve this, BBVA and 20 other large companies from around the world have launched an initiative which represents both a responsibility and a great opportunity: to develop and leverage the greatest group of human capital and talent ever seen in the history of humankind.
The initiative demonstrates a collective response by the part of business to put a better future within the reach of younger generations. Joining forces with the 20 founding companies, an additional 180 companies are now backing this initiative, offering hundreds of thousands of new work opportunities to young Europeans between 2016 and 2022.
It is fundamental for BBVA to support young people as they confront the new and changing challenges and uncertainties characterized by the workplace and the digital transformation. The bank believes that this support should not be limited to job opportunities alone, but should also encompass the promotion of technical and non-technical skills training. To this end, the bank has mobilized a significant number of resources in the past three years. The objective has been to create opportunities for young people, helping them become part of the global workforce. IIn 2018 alone, BBVA Group offered more than 11,000 under 30-year-olds employement, and created more than 2,000 internships worldwide. Additionally, more than 10,000 young people benefited from the bank's training programs, and more than 50,000 received entrepreneurial training. Important numbers that have continued on the rise since 2016, and it is hoped they will reach close to half a million young people by 2022.