BBVA, in the top 35 of the 1,000 best banks in the world, according to 'The Banker'
'The Banker' magazine has published its list of the 1,000 best banks worldwide in its 2021 edition, and has placed BBVA at number 35. The magazine uses its own methodology in which it analyzes more than 30 indicators for each bank, grouped into eight categories: growth, operational efficiency, return on risk, solvency, profitability, asset quality and leverage.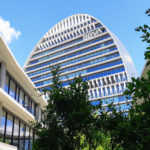 'The Banker' analyzes the results of all banks and also groups them by region and country. This year BBVA also appears 12th in the ranking of European banks. The magazine highlights that Europe's leading banks have weathered an unprecedented global economic and health crisis relatively well. The 2021 ranking reveals that most of the region's financial institutions have maintained healthy capital and liquidity positions despite the protracted nature of the challenges they have withstood. "This, in large part, reflects the fact that the region's financial institutions have worked hard to strengthen their balance sheets in recent years," notes 'The Banker'.
He also points out that, beyond the numbers, it is worth noting the enormous role that European banks have played in supporting businesses, households, health services and their communities during the darkest hours of the COVID-19 pandemic. "Many entities provided much-needed financial donations to key public and private institutions in the early part of the crisis, while national banking systems multiplied government payouts to keep economies afloat," he adds.
Regarding Spanish banks, the magazine highlights that they have performed admirably despite the challenges: not only did they adopt very prudent policies in terms of their provisioning needs, but they also played a very important role in supporting the economy.