BBVA is the overall leader in mobile banking for the third year in succession
BBVA remains the global mobile banking leader in 2019, according to 'The Forrester Banking Wave™: Global MobileApps Summary, 2019'. BBVA's mobile app combines "exceptional functionality with the best user experience." Garanti BBVA, the Group's Turkish franchise, is also in the report, which states that it is "one of the first banks to launch an in-app, voice-activated virtual agent."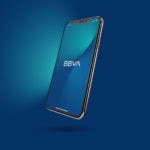 BBVA came top worldwide according to Forrester Research for the third year in succession. In its latest report, 'The Forrester Banking Wave™: Global MobileApps Summary, 2019', the BBVA app in Spain remains the global mobile banking leader. BBVA's mobile banking app combines exceptional functionality — achieving a near-perfect score — with the best user experience," states the report.
According to this international research and consulting firm, "BBVA's best-in-class functionality includes Bconomy, which gives customers a financial health score based on their own data and recommends personalized actions to help customers improve their financial situation." The report also says that "BBVA provides relevant content in a clear layout, from simple to more complex multi-step scenarios. The app follows accessibility principles, using contrasted colors for all its content, and provides contextual help that is tailored and relevant to what the customer is trying to achieve and also has best-in-class privacy and security statements."
"Forrester has recognized again BBVA as a leader and, in our opinion, our efforts to increase the services that we already offer to our customers, improving their experience each year and with increasingly functionalities.We will continue to work on customizing services according to customers' needs, leveraging technologies such as AI, which allows us to serve customers faster and instantly," said Sofía Rodríguez-Sahagún, head of digital transformation at BBVA Spain.
The report also highlights that banks are focusing on helping customers manage their money better, which is at the heart of their value proposition of new digital banks. As for BBVA, the bank "uses predictive analytics to alert customers about potential outgoing payments and offer a 'safe-to-spend' balance".
As for Garanti BBVA, the Forrester report indicates that the Group's Turkish franchise as well as two other banks, have "all iteratively improved their apps, combining an impressive range of mobile banking capabilities with good user experiences. Garanti's effective app-wide search helps customers find functionality and content, taking them directly to what they're looking for, while context-sensitive task-related help supports customers where they need it."
Improving customers' financial well-being
Forrester Research also states that European banks (such as BBVA and Garanti BBVA) "are doing more to help customers improve their financial well-being". Accordingly, "many leading banks see financial well-being as core to their new value proposition; our reviews confirmed that most banks are still early on their journey". Four European banks, including BBVA and Garanti, and two North American banks "stood out for showing customers how much money they can spend safely and helping customers reach their financial goals," the report says.
New digital banks
Forrester Research has reviewed the mobile apps of 54 leading retail banks in Australia, Canada, China, France, Hong Kong, India, Italy, the Netherlands, Poland, Spain, Turkey, the U.K., and the U.S. for both functionality and user experience (UX). The evaluation includes 36 functionality parameters and 26 user experience criteria.
The report includes a new evaluation on new digital banks. Forrester Research says digital banks are giving established banks a run for their money. BBVA is the overall leader.
Making it easy to find help
The Forrester Research report also states that "less tech-savvy customers inevitably have questions as they move through tasks, yet many banks require customers to leave the task flow to look for help sections that are not always easy to find." The report goes on to say, "BBVA and Garanti have a persistent icon to reach help and FAQs that are tailored to the task, as well as a way to reach human help if required."
Also, the report states "digital teams that want to raise the bar on the value and experiences they deliver must find ways to create new value for customers. You won't manage that by working in silos. Instead, you need to form cross-functional teams focused on customer journeys that can deliver high quality at speed through tight collaboration between business strategy, customer experience, and technology professionals — as banks such as BBVA".