BBVA issues €1 billion of Tier 2 subordinated debt, oversubscribed fourfold
Today, BBVA placed €1 billion of Tier 2 subordinated debt on the market. The debt, maturing on January 16, 2030 has an interest rate of mid-swap plus 127 basis points, 28 basis points below the initial interest rate (mid-swap plus 155 points) and a 1% coupon. Demand for the issuance reached €4.2 billion, exceeding the opening offer by four times.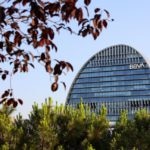 This issuance represents the largest book (excluding AT1) of the €43 billion offered by financial institutions this week on the European bond market, a historic weekly record. It also represents the smallest coupon paid for a public T2 issuance by a Spanish bank since Basel III came into effect.
The book received nearly 300 orders from investors. 28 percent of the investors are from France; 17 percent from Germany and Austria; 16 percent from the U.K. and Ireland; 8 percent from Belgium, the Netherlands and Luxembourg; 7 percent from Nordic countries; 6% from Spain and Portugal; 6 percent from Asia and emerging countries; 5 percent from Switzerland; and the rest from and other countries. In terms of the breakdown by type of investor, 71 percent are asset managers; 16 percent are insurance companies and pension funds, 6 percent are banks; and the rest are other types of investors.
This subordinated debt issue is subject to Spanish legislation and will be listed on the Dublin stock exchange as of January 16, 2020. It has a 10 year maturity, maturing on January 16, 2030 and a five year optional amortization window, January 16, 2025.
The purpose of the issuance is to reinforce the Tier 2 ratio (the fully loaded ratio was 2.12 percent on September 30, 2019), taking advantage of the good market tone and the demand identified. The coupon is a fixed annual percentage and the starting interest rate is midswap plus 155 basis points. The underwriting banks are BBVA, Barclays, BNP Paribas, Bank of America, HSBC and ING.
The last Tier 2 subordinated debt issue took place in February 2019, when 750 million euros were placed at an interest rate of mid swap + 245 basis points.
This is BBVA's second debt issuance so far this year. On January 7th, the bank sold €1.25 billion of senior non-preferred debt with a seven year maturity, with demand two times oversubscribed.