More than 2 million people benefited from BBVA entrepreneurship programs in 2018
Entrepreneurship held an important place in BBVA's 2016-2018 Community Investment Plan. The Group's programs especially target entrepreneurs who are in vulnerable circumstances and those whose projects will have a positive impact on society or the environment.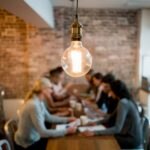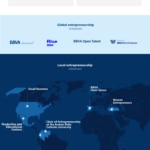 BBVA Momentum 
BBVA's social entrepreneurship support program, whose latest round has been kicked-off and is in the candidate registration phase, offers participants: strategic guidance, training, networking, visibility, and access to financing. Entrepreneurs who have completed the program affirm that it has been a turning point for the growth of their businesses. "It is a winning experience in every sense", says Surdoz's, Natalí Gallego, a participant in BBVA Momentum 2018 in Colombia. "They improved our business model, our underlying skill sets, and we even managed to fit in some exceptional networking between us [the participants]."
Since its debut in 2011, BBVA Momentum has supported 515 entrepreneurs in six countries. Furthermore, 319 BBVA professionals  volunteered for the program, either as mentors for the selected entrepreneurs, helping them to shape their business plans for growth; or as specialists, answering questions on specific topics.
BBVA Microfinance Foundation 
The BBVA Microfinance Foundation supports "at risk" entrepreneurs by providing productive financing.  Its name is synonymous with entrepreneurship, economic development, social development, and hope.
It has two primary areas of activity:
Establishing a group of innovative and sustainable microfinance entities
Stimulating the transformation of the financial sector.
Since it launched in 2007, the foundation has invested $11.78 million in productive loans that have benefited 2 million people across 5 countries, focusing particularly on women.
Its CEO/Director General Javier M. Flores wanted to emphasize the women's participation in the foundation during an event held at the United Nations headquarters in New York in March: "The Foundation wants to be there to support women entrepreneurs with financial products and services adapted to their needs; as well as providing financial education, technical training for their business, access to support networks, and contacts."
BBVA Open Talent 
Open Talent is the biggest competition of fintech startups in the world. Its objective is to encourage the most innovative technological solutions and give visibility to up-and-coming projects that have the potential to transform the financial sector. Speaking at  2019 Open Talent Cristina Iborra, head of innovation events and activities for BBVA Open Innovation explained "This is a win-win.,The participants provide something fresh, talent, innovative ideas and new ways of working.  We support them with all the expertise that a great company like BBVA has." Since 2008, this contest has handed out €1.8 million in prizes to 600 startups, in more than 80 countries, involving more than 700 professionals.
BBVA Blue Challenge 
This program is aimed at helping young university students channel their energies into developing projects that have the potential to change world. How? By offering entrepreneurship training in a program that is recognized for the high caliber of its participants: "Each project is amazing and all the participants are winners", said Rob Brown, BBVA's Global Head of Marketing, Design and Responsible Business at the close of the last round. Since its inception in 2016, more than 5,000 young people from 23 countries have completed the program.
Local Reach 
BBVA has also launched successful initiatives at a local level that have positively impacted millions of people. Below are some of the most notable:
Agricultural Entrepreneur Award (Argentina): an award that recognizes the most innovative entrepreneurs in the agricultural and livestock sectors.
School for Entrepreneurship (Colombia): fosters entrepreneurial skills among young people in order to to develop new business ideas and promote the growth of already established social enterprises.
BBVA Open Space (Spain): an initiative that promotes the innovation and entrepreneurship ecosystem in learning centers that are open to the larger community.
Small Business (USA): facilitates the incubation and ramping up of new business, contributes to the growth of small businesses in the education and technology sectors and collaborates with relevant organizations and associations.
Educational and productive centers(Mexico): This is an innovation and entrepreneurship ecosystem open to anyone.
Women Entrepreneurs (Turkey): provides an ecosystem that supports women entrepreneurs with training, access to financing, networking, and visibility.
Arts and Crafts Fair (Uruguay): supports artist and artisan entrepreneurs with training, awareness-raising, and by marketing their products.
Entrepreneurship Chair with Andres Bello Catholic University: Encourages ideas the promote the entrepreneurial spirit and the creation of new businesses.