BBVA was recognized by the U.S consulting firm Gallup as one of the 30 most exceptional companies in the world. The Gallup Exceptional Workplace Award is given to companies that are committed to developing the human potential of their workforce.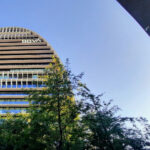 The cultural transformation BBVA has undergone in recent years has meant the implementation of new organizational formulas and many more agile work methods to adapt to an environment that continues to change. The search for innovation and to offer customers a unique value proposition has been crucial to carrying out a process that has turned the bank into an open and inclusive place to work.
"It's the first time that we´ve received this recognition and it reaffirms that we are working in the right direction," says Carlos Casas, BBVA´s Global Head of Talent and Culture. "Our strategic priority to be ´the best and most engaged team' is achieved by every one of us. Our employees´ participation has been key to obtaining this award, which recognizes the BBVA team´s efforts in working together to improve our workplace."
By focusing the corporate strategy on people and a workplace culture to match, organizations reap benefits in the commitment, retention and greater productivity of their employees; as well as improvements in the well-being and structure of the organization,  customer experiences and greater organic growth.
Gallup Exceptional Workplace Award
"In 2020, organizational cultures saw historic threats. It took an exceptional amount of resilience for organizations and their employees to make it through," explained Jim Harter, Chief Scientist for Gallup's workplace management and wellbeing practices. "The abundance of well-managed and highly inspired teams inside Gallup Exceptional Workplace Award-winning organizations puts them in a particularly strong position to adapt quickly to meet the needs of their customers."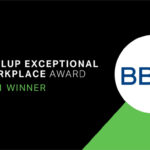 According to the consulting firm, the ratio of engaged employees to actively disengaged employees is 14 times higher than the international average in the companies that won the Gallup Exceptional Workplace Award. Worldwide, only 22 percent of employees are committed to their work and connected to their place of work. This percentage of committed employees jumps to 73 percent in the organizations recognized by Gallup.
For more than a decade, the consulting firm Gallup has recognized the world's most committed corporate cultures. Organizations that challenge the status quo and transform their workplaces to put people at the heart of their strategies. The consulting firm's analysis on teams' commitment and performance is one of the most thorough international studies on places of work. It includes data from more than two million employees at 276 organizations in 54 sectors and 96 countries.
The Exceptional Workplace awards are designed to identify excellence and recognize the companies that integrate employee commitment into the foundation of their work, motivate their teams and achieve business results. Gallup recognizes companies whose leaders support employees' experience, focus on their strengths and provide training to fully develop their potential, and unleash human motivation, creativity and innovation.
By connecting employee commitment to all aspects of their culture, the organizations foster motivation and innovation, which leads to better results than the competition and gives employees a sense of belonging, learning and growth, recognition and the opportunity to do what they do best on a daily basis.