BBVA reduces the number of employees at its Spanish bank branches as a COVID-19 security measure
BBVA continues taking security measures to stop the spread of the COVID-19 virus in Spain. Starting this Tuesday, the bank is operating its branches with 20 percent of its workforce, guaranteeing service in all municipalities where it has a presence.  This measures aims to protect the health of customers and employees, following the recommendations of healthcare authorities.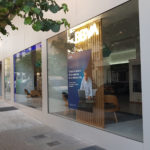 BBVA is constantly monitoring the situation and will adapt its contingency plan to the circumstances as they evolve. In this regard, it is keeping branches open across Spain, but has reduced its workforce to 20 percent. It is also taking steps to increase the distance between workstations, as well as cleaning and hygiene measures to ensure the security of customers and employees.
This measure was adopted following a decrease in the number of people visiting branches after a state of emergency was declared last Friday limiting movement.
BBVA recommends that its customers use digital channels, as they allow customers to do nearly all operations remotely. For customers who do not yet operate remotely on these channels, BBVA is making all means necessary available so they can start to immediately do their banking remotely. The rest of the team will telework to reinforce the customer service channels.
Furthermore, the bank's network of ATMs remains operational to continue serving customers.