Carlos Torres Vila, Chair of BBVA, during a recent visit to Lima unveiled the Group's new investment plan for Peru. In an interview with the financial newspaper Gestión, he stated that "'we expect 75 percent growth in our investment, based on a plan of S/2,000 million (about €500 million) over the next four years.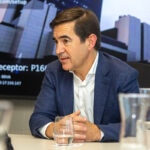 The BBVA Chair's visit to Peru and the announcement of a strong plan for the future clearly reinforce the BBVA Group's commitment to the Andean country despite a complex local and international backdrop. The investment will target the bank's growth in the retail segment and enhance its capability in digital and sustainable solutions.
Digital
Carlos Torres Vila stressed in particular that digitalization has brought major gains in all markets, including Peru. "Digitalization, the availability of self-service solutions and the ongoing improvement of the customer experience significantly contribute to streamline money management, anticipate our customers' problems and help them meet their life goals and business objectives," said the BBVA Chair.
The Peruvian franchise will seek to further strengthen its lead over its competitors and consolidate its position as the most digital bank in the country's financial sector. The recent launches of Openpay and Powerpay are a sample of the direction BBVA is seeking to take in Peru.
"Digitizing comes first and we still have a long way to go. In Peru, of the 1.2 million new customers we acquired in 2022, 69 percent entered via the digital channel. This will continue to grow. Our goal is to continue digitizing products and services," he said.
In addition, in a meeting with BBVA employees in Peru, Carlos Torres Vila reminded them that banks are the catalysts of wider society through their core role: lending to the real economy.
"We support households and businesses in making their life and business projects a reality. This flow of resources critically influences economic development and social wellbeing."
Confidence in Peru
In the face of local and international challenges, Carlos Torres Vila is upbeat about the future and stressed that Peru will continue to be the country with the highest economic growth in Latin America in 2023 and 2024, which demonstrates its resilience and macroeconomic strength. The BBVA Chair also pinpointed areas for improvement in the Peruvian market.
"It would be desirable to curb informality and the use of cash, and to push more strongly for digitalization, infrastructure, entrepreneurship and financial inclusion in the country. For our part, we aim to continue to grow strongly in Peru," he stated.
Finally, Carlos Torres Vila shared the outstanding performance of BBVA at the global level during the past year: it achieved a profit of €6.4 billion and acquired almost 12 million new customers. All of this is based on a successful strategy of digitalization, innovation and sustainability. The BBVA Chair also noted the excellent results of the first quarter of 2023, with a strong performance of recurring revenues (net interest income and net fees and commissions) and growth in business volume.
"First-quarter earnings reached €1.85 billion, an increase of almost 40 percent compared to the first quarter of last year. There are still three quarters of the year to go and we have extremely positive momentum with another record first quarter, which suggests we will continue on the same growth trend this year," he concluded.