BBVA shareholders largely back the possibility of carrying out a relevant share buyback
BBVA shareholders backed the possibility of redeeming up to 10 percent of the bank's share capital, equivalent to 667 million shares, with 99.6 percent of the votes at the Annual General Meeting (AGM) held in Bilbao today. This item on the agenda aims to be able to implement a relevant share buyback, as means of distribution to shareholders.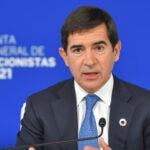 Following the approval of this item, the Board will be able to decide whether to proceed - or not - with the share buyback and subsequent redemption in one or more transactions. This potential share buyback would take place after the closing of the sale of the U.S. subsidiary. This deal is expected to close around mid-year, and is subject to several factors such as share price and the pertinent supervisory authorizations.
Shareholders also approved, with 99.3 percent of votes, the distribution of a cash dividend of €0.059 per share on April 29. This amount represents a 15 percent payout on the Group's earnings in 2020¹, the maximum allowed by the ECB for that year.
Likewise, BBVA shareholders approved, with 99.6 percent of votes, the distribution of a first cash dividend for fiscal year 2021 equivalent to a maximum of 35 percent of the Group's first-half earnings, excluding one-offs, and up to a maximum of €533.43 million. Taking into account the total number of BBVA shares (6,667.89 million), this maximum limit would be equivalent to a gross dividend of €0.08 per share. This first dividend on 2021 earnings, tentatively scheduled for October, will be subject to the lifting of regulatory shareholder distribution restrictions, currently in effect through September, and as long as there are no additional restrictions or limitations.
The AGM also approved the re-election of José Miguel Andrés, Jaime Caruana, Belén Garijo, José Maldonado, Ana Peralta, Juan Pi and Jan Verplancke as board members.
The shareholders also approved the annual accounts for fiscal year 2020 (99.6 percent of the votes) and the corporate management during the same period, which received backing from 99.5 percent of shareholders. The rest of the items on the agenda have been approved with percentages higher than 93 percent.
The AGM's quorum stood at 67.71 percent, the highest in the bank's history.
¹Excluding goodwill impairment, capital gains on the Allianz transaction and AT1 coupons.